O'Neill Says Emerging Stocks Rout Creating Opportunity to Buy
Kathleen Hays and Veronica Navarro Espinosa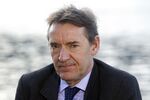 The worst start for emerging-market stocks in four years is creating a buying opportunity, according to Jim O'Neill, the former Goldman Sachs Asset Management chairman who coined the term BRIC in 2001.
"Some places in the emerging world have got some real problems, but that to be described as some kind of emerging-market crisis is frankly kind of ridiculous," O'Neill said yesterday in an interview on Bloomberg Radio. "We probably are closer to a good opportunity to buy some of these things rather than join in the panic."
Developing-nation stocks have retreated in four of the past five weeks on concern the global economic recovery will wane. The MSCI Emerging Markets Index, which closed at a five-month low yesterday, fell 0.1 percent to 917.08 at 8:30 a.m. in London. The decline brought this year's slump to 8.5 percent, the most in the same period since 2010.
The Federal Reserve's decision to trim an unprecedented bond-buying program is amplifying the selloff in emerging-market assets, according to O'Neill. He identified Ukraine, Thailand, Argentina and Turkey as countries with "some serious issues."
Strategists from Goldman Sachs Group Inc. to AMP Capital Investors and JPMorgan Chase & Co. are also telling clients not to panic after losses that began with currencies in Turkey and Argentina spread to developed markets. Central banks in several developing countries, including India, Turkey and South Africa, unexpectedly raised interest rates last week to stem the slide.
Tapering is "more problematic for emerging economics but affects everywhere," said O'Neill, who is a columnist for Bloomberg View. "That shouldn't be confused with individual emerging countries having genuine problems."
O'Neill, came up with the term BRICs for Brazil, Russia, India and China while at Goldman, referred to MINTs in a column in November. The acronym is short for Mexico, Indonesia, Nigeria and Turkey, which he said boast favorable demographics for at least the next 20 years and interesting economic prospects.
Before it's here, it's on the Bloomberg Terminal.
LEARN MORE