Michael Kors, With Surging Sales, Is Ready to Go After Men
by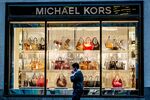 There's been a lot of talk lately about the new wealth effect—that is, the wealthiest consumers are spending freely again, boosting the fortunes of companies that cater to them and leaving others to struggle. If you want proof, take a look at luxury lifestyle company Michael Kors Holdings. It reported results for the holiday season on Feb. 4 with barely contained excitement.
The company's revenue rose 51 percent in North America and more than doubled in Europe in the third quarter. Sales at stores open at least a year, an important measure of a retailer's health, jumped 28 percent globally, topping analysts' estimates of a 19 percent gain. Overall, net income increased by 77 percent. And the company said it now expects its revenue for the full year to reach at least $3.18 billion. It had most recently offered an estimate closer to $3 billion.
Michael Kors, the designer who serves as the company's chief creative officer, came to prominence thanks to that very effective marketing tool known as Project Runway. He was a judge on the show when it first aired in 2004 and—after sitting out a season—returned this fall as a guest judge. Michael Kors, the company, produces runway collections and also sells (relatively) more affordable clothes, shoes, and accessories. While the watches and handbags, in particular, have done well in the U.S., the company doesn't want anyone to forget its couture cred. "We have $10,00 crocodile bags and a $248 tote," John Idol, chief executive officer, said on the earnings call. "We believe in the luxury category; that's where we come from."
As for where it's heading, look lively, men! Michael Kors wants you, too. "We have a specific idea of who the Kors man is," Idol said. He noted that the company will soon be announcing a new president for its men's division and is introducing a men's fragrance for fall, "accompanied by tremendous advertising." And he expects to sell a lot more watches. Idol said Michael Kors is among the top 10 watch brands in the world—but that unlike some Swiss competitors, its business still relies primarily on female customers. He wants to turn this into a 50-50 gender split.
Kors showed his fall men's collection last week. He describes it as "Big Sur meets Big City." That translated into crinkled flannel track pants worn with a longer, three-button jacket, untucked shirt, mohair pullover, and sandals. "It's the crushing of Wall Street," Kors said gleefully. Men, you've been warned.
Before it's here, it's on the Bloomberg Terminal.
LEARN MORE