KPN to Cut Up to 14% of Dutch Workers on Mobile Competiti
Elco van Groningen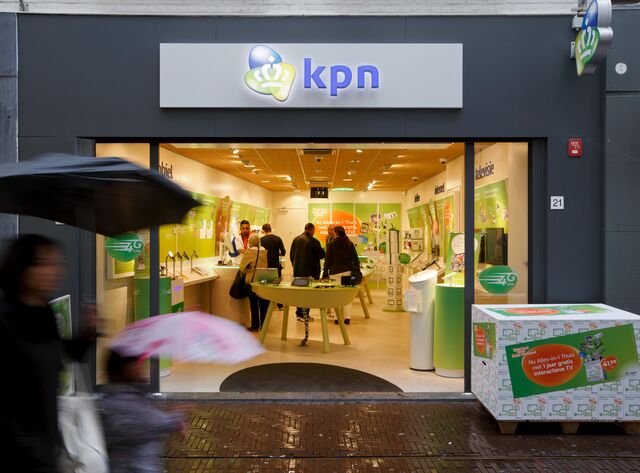 Royal KPN NV, the biggest Dutch telecommunications provider, plans to eliminate as much as 14 percent of its workforce in the country over the next three years as a mobile-phone price war hurt earnings.
KPN will cut 1,500 to 2,000 full-time positions in the Netherlands, it said in a presentation today. The company projects annual savings of 300 million euros ($405 million) by 2016. Fourth-quarter earnings before interest, taxes, depreciation and amortization fell 29 percent to 581 million euros, missing the 631 million-euro average analyst estimate compiled by Bloomberg.
"We can't exclude forced job losses," Chief Executive Officer Eelco Blok said at a press conference in The Hague. KPN will offer fewer products and has already reduced "dozens of broadband products" to fewer than 10, he said.
The shares fell as much as 5.7 percent, the steepest decline since Oct. 17, the day after billionaire Carlos Slim's America Movil SAB withdrew a bid for the carrier following disagreements on price and corporate governance. The KPN foundation spent much of last year fighting off the takeover attempt as competitors pushed bundled phone and Internet services to win customers.
One-Time Charges
Quarterly earnings were restrained by one-time items including a provision related to the former KPNQwest joint venture with U.S.-based Qwest Communications, and weren't "that bad" otherwise, said Marc Hesselink, an analyst at ABN Amro Bank NV. "Underlying, the figures of mostly mobile and business disappoint though."
KPN traded 4.5 percent lower at 2.57 euros as of 11:35 a.m. in Amsterdam, giving the company a market value of 11 billion euros.
America Movil remains KPN's largest shareholder with a stake of almost 30 percent. Blok said he doesn't know whether the Mexican company plans to bid again after April 16, when a new approach is allowed.
In Germany, KPN agreed last year to sell its E-Plus division to Spain's Telefonica SA, and that transaction is pending approval by the European Commission.
"We have now put in place strong fundamentals at KPN and expect stabilizing performance towards the end of 2014," Blok said in a statement, projecting an increase in free cash flow next year.
E-Plus Sale
KPN reiterated that it plans to resume dividend payments from 2014 and that the sale of E-Plus should contribute to improvement of its financial profile. E-Plus is no longer consolidated in KPN's results after shareholders in October approved the 8.55 billion-euro sale of the business to Telefonica Deutschland Holding AG. The European Commission is scheduled to rule by May 14.
KPN is facing intensifying competition in the Netherlands, where cable operator Ziggo NV agreed last week to a full takeover bid by Liberty Global Plc. The transaction will lead to a combination of the networks of Ziggo and Liberty's UPC, which together will control about 90 percent of the Dutch cable network. Both companies also offer so-called triple-play services.
Because of the similarities between the companies in product portfolios, Blok said a level playing field should be created. "That can be done in two ways," he said. "One is that UPC/Ziggo is regulated in the same way as KPN. The other is that KPN is regulated the same way as UPC and Ziggo."
Before it's here, it's on the Bloomberg Terminal.
LEARN MORE