How Hollywood Works Without Philip Seymour Hoffman
By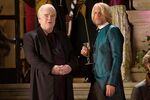 In the business of Hollywood and its $100 million blockbusters, the grim work of anticipating human frailty is a sad part of what it takes to make a movie. The death of actor Philip Seymour Hoffman, from an apparent drug overdose over the weekend, is the sort of unexpected loss producers and their insurers must prepare for and work around.
Hoffman had not yet finished his work in the Hunger Games franchise, a four-film series currently filming its final two installments in back-to-back productions. He played the significant role of Plutarch Heavensbee, head game-maker in a dystopian society organized around gladiatorial spectacle. Director Francis Lawrence is unlikely to cast another actor in that role—Hoffman reportedly had just seven days of filming left—and it's unclear if his demise might trigger the insurance coverage common for major players in big budget movies.
The director is more likely to rework parts of the script or use special effects to compensate for the actor's absence. Similar circumstances have reshaped other movies. When the actor Oliver Reed died of a heart attack midway through production of the 2000 film Gladiator, a body double and the use of earlier footage and computer graphics helped assure that his character, a slave dealer named Proximo, still fit into the story.
Universal Pictures faces a dilemma with Fast & Furious 7 following the November death of its star, Paul Walker, in a car crash. Production has been delayed by several months, and sources have told the Hollywood Reporter that the director is planning to "retire" the actor in the narrative for the next episode.
The entertainment industry, with its reliance on celebrities, is used to preparing for the worst. Even a shampoo brand such as Head & Shoulders will take out a $1 million insurance policy on the hair its pitchman, Pittsburgh Steelers player Troy Polamalu, before embarking on a major advertising campaign. The cost of insuring actors like Lindsay Lohan, with well-documented histories of substance abuse, can be breathtakingly high. The insurers best-known for assessing such risks are Fireman's Fund Insurance Co. and Lloyd's of London.
Hoffman was also set to star in a much-anticipated Showtime comedy series called Happyish, a show very much created around a distinct performer. In showing a trailer for the series, which had so far shot only a pilot, Showtime entertainment chief David Nevins made it clear the main draw was Hoffman: "Happyish was a script that I've loved for a really long time, and it took us a while to get to Philip Seymour Hoffman," he said, according to a transcript. "It was a long process … and totally worth it for the waiting."
Having already agreed to pick up the series, the cable network must now weigh casting a new star or scrapping the project. While some consider the series unlikely to continue,  some unmade shows have gone on after losing a great performer: HBO recently cast Robert DeNiro in the drama Criminal Justice, following the death of James Gandolfini, who had been slated to take the leading role.
Before it's here, it's on the Bloomberg Terminal.
LEARN MORE