This Reporter Made Dozens of Super Bowl Bets, and You Won't Believe What Happened on the First Play
By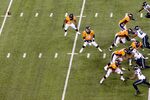 It's quite possible that I am the only Peyton Manning fan who was leaping off the couch in joy as the first snap of the Super Bowl arced over his right shoulder and into the end zone. Loyalty? Don't be daft. I had just made more than $100 in the first 12 seconds of the game.
I chose 60 Super Bowl bets and placed £1 on each, meaning I had a total of about $100 riding on the game, much of it riding on the absurd. I bet that Jerry Jones, owner of the Dallas Cowboys, would be shown watching from a suite in MetLife Stadium; the bookies called that one "The Dallas Buyers Club." The most valuable player? I wasn't too sure who it would be, but I did bet he would thank his teammates before thanking his mother, the Almighty, or anyone else. I bet a Seattle player—any Seattle player—would be shown on television catching a Skittle in his mouth after a touchdown.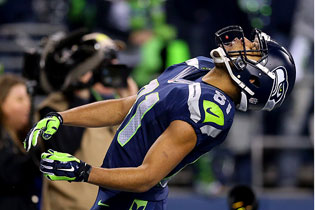 I lost all of those: The ingrate Seattle linebacker and MVP, Malcolm Smith, apparently thanked no one; Jerry Jones was nowhere to be found; and the event's crass commercialism did not spill over into Skittles on the sidelines. But it didn't matter: I made a killing on the very first play, and I made money again on the very last touchdown.
Betting like a maniac isn't about me, it's about where I live. This is how you watch the Super Bowl in London, or any sport, for that matter. Sports gambling is a way of life in the U.K., where it's been legal for more than 50 years. Bookies made almost £3.2 billion ($5.2 billion) from bettors in the last full year for which regulators have a tally. You can gamble on sports, politics, or even the weather. Just walk into one of the roughly 9,000 licensed betting shops across the land or click into the websites of their operators.
Beyond the random office pool, I'm a sports-gambling novice. Chalk it up to being raised in the America outside of Nevada, in the places where bookies have friends with nicknames like "Joe Batters" and "the Bull." But with a nudge from my editors, I decided to experience America's biggest sporting event in English fashion—by placing as many wagers as I could possibly fathom on the game. It's the first time in my five Super Bowls since moving to London that I have even tried to stay awake for it. Now I had to keep track of a dizzying array of money-losing opportunities into the wee hours.
Forget win, lose, or draw. William Hill, the largest U.K. bookmaker, offered me and everyone else here more than 160 potential Super Bowl bets. Joe Crilly, a William Hill spokesman, told me that his company estimated it would get about £1.5 million in Super Bowl wagers, which is about double what it got just two years ago. The great variety of wagers is nothing special: By Saturday, for example, the company had teed up 203 different potential bets for the main broadcast soccer game of the weekend in the English Premier League.
That brings us back to the first 12 seconds of the game. I had bet at 66-to-1 odds that the first score would be a Seattle safety. So the stray snap meant I got back the £1 bet, plus £66 more in winnings. I made back everything I had wagered on the entire contest, plus a small profit, on the first play. Take that, Mark Cuban, who only pretended to make the safety bet.
You might think that would take the edge off for the rest of my night/morning. It did not. It just made me greedy. Soon I was shouting at my television—yelling at the guys in the control booth as much as the guys on the field. "I don't want to see John Bloody Travolta! Where is Jerry Jones?!"
And with almost every play, I was refreshing my account online to see whether I had just made money or lost it. I had no clue what I had riding when or how. I wagered Manning's first pass would be intercepted for no reason other than it was a 16-to-1 offering. I bet the Seahawks defense and/or special teams would score more than twice in a 14-to-1 proposition. Manning's first attempt was not intercepted, but plenty of others were, and the Seahawks did score on special teams and defense.
There were quarter-by-quarter bets. There were fourth-down conversion bets. I even had a bet on whether there would be a score in the final two minutes of the first half. By about 3 a.m. in London, when the game was over, I was exhausted. By pure luck, I had almost doubled my money, making back everything I had wagered, plus £53.13. That converts to about $87. I had been transfixed by the worst Super Bowl I've ever seen. The bets kept me awake to the end. I had even bet that Seahawks' receiver Doug Baldwin would score the last touchdown of the game, which he did on a 10-yard pass in the fourth quarter.
May the unthanked Almighty bless you, Doug Baldwin.
Before it's here, it's on the Bloomberg Terminal.
LEARN MORE