That Didn't Take Long: Ben Bernanke Lands at Brookings
By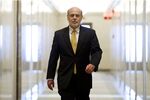 Ben Bernanke used to run the world's most powerful central bank. David Wessel used to cover him as a reporter. In a role reversal that's weirdly Washingtonian, Bernanke will now be a "distinguished fellow in residence" at a Brookings Institution center directed by Wessel. This doesn't mean Bernanke will report to Wessel, who was a Wall Street Journal reporter for 30 years. But it does mean there's been a big change in the power relationship between the two.
"Welcome Aboard, Mr. (Ex) Chairman," Wessel blogged today.
The center Wessel directs is called the Hutchins Center on Fiscal & Monetary Policy. According to its website, it "provides independent, non-partisan analysis of fiscal and monetary policy issues in order to further public understanding and to improve the quality and effectiveness of those policies." Its advisory committee is co-chaired by Democrat Lawrence Summers and Republican Gregory Mankiw, both Harvard University economists. It was launched in December with a $10 million starter gift from the Hutchins Family Foundation. Glenn Hutchins is co-founder of Silver Lake, a global technology investment company. As Bloomberg reported last year, the New York and Menlo Park (Calif.) company in October closed its biggest deal ever, partnering with Michael Dell to buy computer maker Dell for $25 billion.
The lightning-quick naming of Bernanke raises the question of how long ago negotiations with Brookings began. Wessel, whose appointment as director was part of the announcement of the center's formation on Dec. 4, has a well-known and long-standing relationship with Bernanke. He wrote a 2009 history of the financial crisis called In Fed We Trust: Ben Bernanke's War on the Great Panic. As the title suggests, it was one of the more positive appraisals of Bernanke's performance.
Brookings spokeswoman D.J. Nordquist said in an e-mail, "Dr. Bernanke made arrangements with Brookings during the final days of his term at the Federal Reserve." She said Wessel was in a meeting and not immediately available.
Bernanke, who was chairman of the Fed from 2006 until last Friday, was an economics professor at Princeton University from 1985 to 2002, the year he joined the Fed Board of Governors. He finally cut his ties to Princeton in 2005, according to the university.
Before it's here, it's on the Bloomberg Terminal.
LEARN MORE