A Messy Super Bowl Ad Blitz With a Few Family-Friendly, Retro-Themed Winners
by and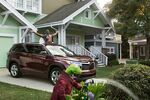 Last night's Super Bowl was a blowout almost from the first snap. It made for dull viewing, but at least the results were clear. The advertisements were a messier game.
The evaluations, as always, came in almost instantly from all corners and with little consensus on what makes a winner. To bring a little method to the madness, Bloomberg Businessweek checked in with Northwestern University's Kellogg School of Management, which runs an annual panel to assess Super Bowl ads, and with TiVo, which collates playback data from a sample of 30,000 anonymous households using the company's recorders.
The quick summary: Microsoft, Cheerios, Heinz, Volkswagen, Butterfinger, and Budweiser scored best with Kellogg's panel, while CarMax, Audi, and Subway were among the poorest performers. TiVo's data showed that the most watched ads (combining live and recorded viewings) came from Budweiser, GoDaddy, Doritos, Toyota, and RadioShack. Topping the list completely was Jerry Seinfeld's promotion for Comedians in Cars Getting Coffee, an unpaid piece of entertainment commissioned by Fox.
TiVo's ad rankings, which focused exclusively on passive collection data—viewers voting with their remotes and nothing else—found some surprising trends. Despite the game's lopsided score, three of the four most watched ads came during the fourth quarter: Budweiser's "Puppy Love," GoDaddy's "Bodybuilder," and Doritos' "Cowboy Kid."
Kellogg marketing professors Timothy Calkins and Derek Rucker have run a Super Bowl advertising review since 2005. They gather roughly 50 graduate students in marketing and provide them with a six-part criteria for assessing ads. The students give letter grades to each spot, which are combined to give an overall grade to every advertiser. The idea is to move beyond instant impressions and look at the basic hurdles an ad has to clear to have an impact. A funny or cute commercial, for instance, does nothing if viewers can't remember the brand.
This year, says Calkins, the best spots did three key things well: "They broke through the clutter, they communicated a benefit, and they had strong branding." Cheerios, Heinz, and Budweiser, all A-scoring brands, left no question about who was behind their ads. They either featured the product on-screen throughout or, in the case of Budweiser, relied on the well-established Clydesdale association:
This contrasts with TurboTax, which had a creative spot that, according to Calkins, failed to connect with the product. The ad made a clever analogy between the common experience of watching teams you don't support in the Super Bowl and watching somebody else take your dream date to the prom. "The link to the tax software wasn't entirely clear," says Calkins. This scored a C grade from the panel.
The Kellogg panel found that CarMax had a muddled message in its ad showing a customer getting a prolonged slow-clap for his wise purchase. "The question was whether that was a sarcastic gesture or was it a positive gesture," Calkins says.
And Audi got a D for its "Doberhuahua" spot. The ad suffered what Calkins calls an "amplification" problem. The creepy dogs overwhelmed the message that compromise is bad and that Audi stays away from it. "What people remembered were the rather disturbing little dogs," says Calkins.
Overall, the commercials veered away from the goofy and toward the serious and uplifting. Chevrolet addressed cancer survival, Budweiser gave a "hero's welcome" to a returning war veteran, and Cheerios took on family planning. "We saw advertisers embracing very high-order themes," says Calkins.
Tara Maitra, senior vice president in charge of content and media sales at TiVo, says the general take-away this year is that "ads were much more friendly, advertisers played it safe. Some people referred to the ads as boring, but because they were viewable by the whole family, that added to viewership strength." Part of the family-friendly viewing included successful throwback-themed commercials featuring characters from the 1980s and '90s, such as the cast of Seinfeld and Full House, as well as Arnold Schwarzenegger and the Muppets. All these ads were in the top 10 most watched.
And the trend toward YouTube debuts before the Super Bowl itself hasn't dented the focus these spots command. "Even though ads were previewed online," Maitra says, "they still garnered a lot of attention on game day."
Before it's here, it's on the Bloomberg Terminal.
LEARN MORE