Expect Few American Spectators at the Sochi Games
By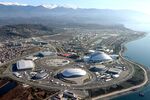 The upcoming Olympics in Sochi, Russia, may attract the fewest American visitors to a Winter Games in two decades amid terrorism concerns, a lack of luxury hotel rooms, and difficulties procuring visas, according to U.S. tour operators. "There was a little hesitancy to start, and now with everything going on, I don't expect that we're going to have a lot of people still coming to us," says Robert Tuchman, president of New York-based Goviva, a sports and entertainment travel company. "This is definitely, from a travel perspective, a low point in terms of a Winter Olympics that I've seen in the 20-plus years I've been doing it."
Russia's plan to spend $50 billion on hotels and other infrastructure to convert a small city on the Black Sea into a year-round resort hasn't produced enough high-end hotels, and the existing facilities have raised prices by 121 percent for the event, according to Trivago, a U.K. website. Russia's Olympic organizing committee said on Jan. 24 that 30 percent of tickets remained unsold three weeks before the Feb. 7 opening ceremony. The Vancouver Games in 2010 wound up selling 97 percent of its seats. With few international flights directly into the Sochi airport, and most Westerners requiring visas, a last-minute rush is unlikely, tour operators say.
Sochi has planned to sell 1.1 million tickets, according to an International Olympic Committee marketing document, meaning about 330,000 remained available as of the latest update from the organizing committee. Of 1.54 million tickets available for the Vancouver Games in 2010, 97 percent, or 1.49 million, were sold. The Canadian Olympic Committee said it didn't have information on last-minute sales for the 2010 games.
Sochi still can approach Vancouver's sales, even if the organizers have to offer discounts to local schools or community groups, according to Janice Forsyth, director of the International Centre for Olympic Studies in London, Ont. "It's difficult to say how close to the mark Sochi will be considering the terrorism threat—that was something Vancouver didn't have to deal with," Forsyth says. "They need to show that they can run a successful games, and selling tickets, even if they almost have to give them away, is one way to demonstrate that."
Bookings at Chicago-based Sports Traveler for the Feb. 7-23 Olympics are 80 percent below what was expected, says president and founder Anbritt Stengele. The biggest obstacle, according to several tour operators, is the absence of four- and five-star hotels. "Olympic travelers tend to be high-end travelers," Stengele says. "We only have access to one four-star property in the mountains. It's really put a damper on our sales."
The terrorist threat will also keep travelers away. The U.S. State Department on Jan. 10 issued a travel alert for Russia after two suicide bombings in the city of Volgograd late last year killed more than 30 people. The warning urged Americans to "remain vigilant and exercise good judgment and discretion when using any form of public transportation."
Some U.S. Olympians have asked family to stay home. Speed skater Tucker Fredricks told his family not to attend because the security concerns would be a distraction, ABC News reported, citing interviews with his parents. Hockey players Ryan Suter and Zach Parise, who play for the Minnesota Wild, also told their families to stay away, according to the Star Tribune of Minneapolis. IOC President Thomas Bach said Jan. 22 that organizers are confident the games will be safe. "Security is always a matter of concern, not only at an Olympic Games but at every big event," Bach told reporters in Rio de Janeiro. "We know the Russian authorities together with their many partners internationally are doing everything to organize the games in a safe and secure way."
Jason Berger, president of the National Association of Ticket Brokers, said the Sochi Olympics are "almost a non-event" and that there are now great deals on tickets, airfare, and hotels in Sochi. "In my almost three decades of selling Winter and Summer Games, I have yet to see this lack of turnout," says Berger, who is also chief executive officer of AllShows.com of Rye, N.Y. However, visa issues and distance are likely to keep American travelers from making last-minute plans to attend the Olympics as they have in the past, according to Adam Dailey, chief strategy officer of Ludus Tours, an Austin (Tex.)-based agency that is an official sponsor of several American teams, including USA Luge and USA Curling. Says Dailey: "I don't think many people are going to see this Russian destination they've never heard of in the opening ceremonies on TV in the dead of winter and say, 'You know, that's where I want to go next weekend.'"
Before it's here, it's on the Bloomberg Terminal.
LEARN MORE