Mitsubishi UFJ Posts Unexpected Gain in Third-Quarter Profit
Monami Yui and Shingo Kawamoto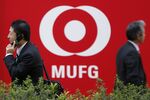 Mitsubishi UFJ Financial Group Inc.'s third-quarter profit unexpectedly rose 5.5 percent as lending income and gains in the value of its shareholdings outweighed a slump in bond trading.
Net income at Japan's largest bank climbed to 255.2 billion yen ($2.5 billion) in the three months ended Dec. 31 from 242 billion yen a year earlier, figures derived from a nine-month earnings statement showed today. That beat the 200 billion-yen average estimate of seven analysts surveyed by Bloomberg.
Mitsubishi UFJ, Sumitomo Mitsui Financial Group Inc. and Mizuho Financial Group Inc. are on pace to achieve their full-year profit goals after an equity-market rebound spurred brokerage fees and investment gains. The lenders are moving cash out of government bonds and increasing loans as the central bank buys sovereign debt to stoke inflation and stimulate the world's third-largest economy.
"Gains in equities made up for declines in bond income, which was the other way round during the previous fiscal year," Yoshinobu Yamada, a Tokyo-based analyst at Deutsche Bank AG, said by phone before today's report. "Banks have already exceeded 90 percent of their full-year estimates and I think they'll beat the targets."
Nine-month net income climbed 48 percent to 785.4 billion yen, Mitsubishi UFJ said. The bank maintained its profit target for the year ending March at 910 billion yen. It raised the projection in November from 760 billion yen.
Stock Buyback
Mitsubishi UFJ will buy back 390 billion yen of preferred shares in April and cancel the stock, it said in a statement. It sold the shares in 2008 to domestic insurers including Nippon Life Insurance Co. and Tokio Marine & Nichido Fire Insurance Co. to bolster capital, Kazunobu Takahara, a bank spokesman, said by phone today.
Shares of the company closed 2.6 percent lower at 607 yen in Tokyo before the earnings announcement. The Nikkei 225 Stock Average slid 2 percent, extending losses this year to 10 percent and entering a correction. The gauge jumped 57 percent to a six-year high last year.
Net interest income, or revenue from lending minus payments on deposits, jumped 12 percent to 485.2 billion yen last quarter from a year earlier, according to calculations based on today's statement. Profit from fees and commissions rose 14 percent to 278.2 billion yen. Income from trading government bonds and other securities fell 15 percent to 68 billion yen.
Mitsubishi UFJ had a 62.7 billion-yen gain from equity-related investments in the nine months ended December, compared with a 90.9 billion-yen loss a year earlier.
Investor Concern
Gains from shareholdings are now under threat as the stock rally fades. Investors who flocked to Japanese stocks last year on the back of Prime Minister Shinzo Abe's economic stimulus program are now selling on concern that slowing Chinese manufacturing growth will herald a global slowdown.
Third-quarter profit at Sumitomo Mitsui and Mizuho fell less than analysts estimated, reports from the Tokyo-based companies showed last week. Net income at Sumitomo Mitsui, Japan's second-largest bank by market value, declined 9.3 percent to 199 billion yen and the company maintained its full-year profit forecast of 750 billion.
Mizuho's quarterly profit slid 36 percent to 133.4 billion yen and it kept its annual projection at 600 billion yen.
Mitsubishi UFJ, led by President Nobuyuki Hirano, is spearheading an expansion abroad by Japanese banks as they look to more profitable loan markets. The company bought a majority stake in Thailand's Bank of Ayudhya Pcl in December for 536 billion yen, its biggest acquisition in Asia outside of Japan.
Before it's here, it's on the Bloomberg Terminal.
LEARN MORE