Chipotle Wants to Speed Up With Mobile Payments
by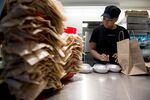 Trying to add even more speed to its fast-food burrito, Chipotle is planning to invest $10 million to redesign its technology network and add mobile payments to its ordering app, among other improvements.
"We are experimenting with mobile payments, and we have kind of a rough version right now that our employees are able to use," said Chipotle Chief Financial Officer John "Jack" Hartung during an earnings call last week. The company is spending a few hundred dollars per restaurant to add equipment for this feature, which is similar to the readers used at Starbucks cafes. Chipotle declined to share details about its timing for making mobile payments available to customers.
The app, which will make payments through a bar code scan or Bluetooth connection, will speed up transaction processing and require less back-and-forth than cash or credit cards. "The primary benefits are customer convenience and allowing people to engage with us in another way," said Chipotle spokesman Chris Arnold in an e-mail. "We'll also be able to push offers or other messages to app users, which could certainly be a useful retention tool."
Mobile payments have been a point of focus for quick-service restaurants such as Starbucks and Dunkin' Donuts, but Chipotle co-Chief Executive Officer Steve Ells said during the conference call that he's not interested merely in "chasing the latest technology gimmick." "We would not make an investment, including things like mobile pay, that have the potential of slowing down throughput," Ells said.
As daunting as its meandering lunch lines might seem, the restaurant is serving burritos quicker than ever: In the fourth quarter, Chipotle managed to add six transactions per hour during its peak lunch rush and five transactions per hour during the dinner peak, according to co-CEO Montgomery Moran.
The Mexican grill launched an ordering app in 2009, which has since been downloaded 3 million times; the app allows customers to order and pay before picking up their meal at the restaurant. Some users complain that the complete menu, including such items as kids' meals, isn't available and that the app has some glitches. "The app seems to be dropping some part of my order," wrote one user. "I was highly pleased until I discovered that my order wouldn't be ready for 30-45 min," commented a second. Chipotle executives must be hoping customers find mobile payment easier to use.
Before it's here, it's on the Bloomberg Terminal.
LEARN MORE