Approximate Delivery Date for Your Sofa: The 12th of Never
by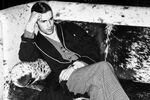 Why is your couch taking soooooooo looooooooong?
West Elm , Pottery Barn and many other stores make delivery estimates of eight to 10 weeks. "It's easier to keep a dozen shirts in a warehouse than a dozen sofas," says Judy Smilow, who has a custom furniture company, Smilow Design , with couches costing upward of $12,000. "They don't know if you're going to order the one thing they have in stock or, more probably, the many things they don't."
"Places like Crate & Barrel have a huge operation somewhere, with an established production-line calendar," says Markham Roberts , an interior designer based in New York. "They can't interrupt it because you want your parents to come stay in your apartment over Christmas."
And factory production often isn't centralized. "The upholsterer I use orders custom-made frames," says Stephen Sills , an interior designer who has worked for Tina Turner, the Rockefeller family and Vera Wang. "It can be three weeks to a month just to get the frame, and then the upholsterer goes to work, building up the frame with springs and webbing."
That's for his high-end jobs. But even for cheaper projects, for which Sills has purchased furniture from places likeABC Carpet and Home and Room & Board , it's a process, "unless you buy a floor sample and have it re-covered," he says.
Eight to 10 weeks. They make golden retrievers faster than that. And Smilow and Sills say they see wait times trending even longer. "In this recent economy, suppliers aren't stocking the goods that they used to," Sills says. "People just can't afford to buy excess stock and sit on it, waiting for a big order."
So when a big order does come in, it will take even longer. "Someone just asked me if I could make 135 dining room chairs for a restaurant," Smilow says. "That's a challenge for my factory. I called them up and they said it would take 12 to 16 weeks. But I don't have 12 to 16 weeks." She adds, "I asked, just to see, if the client was willing to pay double, could the factory make it faster? And they said no."
Why haven't customers demanded a change?
"I don't think they have any choice," says Roberts. "Short of going yourself and helping out in the workroom."
Before it's here, it's on the Bloomberg Terminal.
LEARN MORE