Michael Strahan Joins Football Hall of Fame With Punter Ray Guy
Erik Matuszewski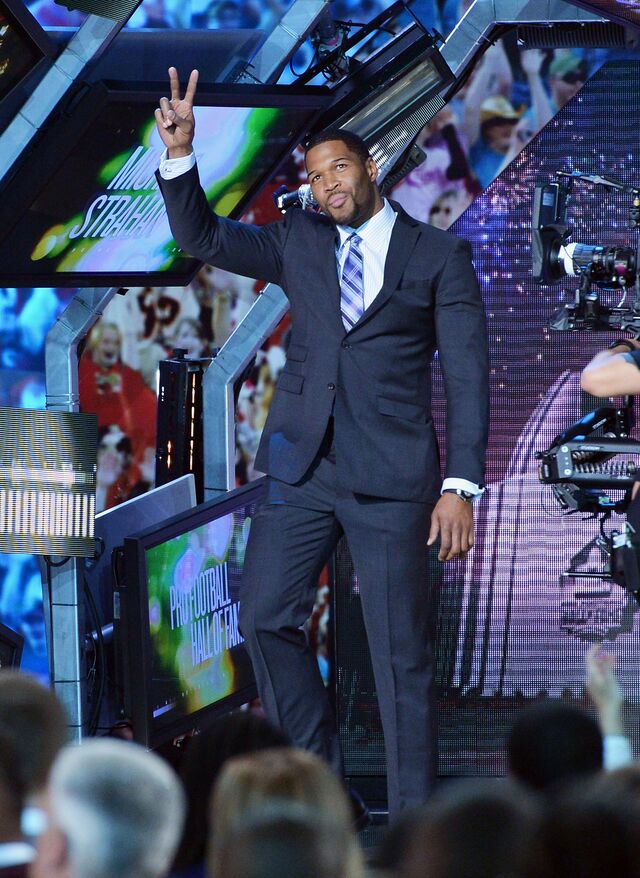 Defensive end Michael Strahan was elected to the Pro Football Hall of Fame, six years after he led the New York Giants to a Super Bowl title in the final game of his National Football League career.
Ray Guy became the first punter voted into the Hall of Fame, while former Tampa Bay Buccaneers linebacker Derrick Brooks and Seattle Seahawks offensive tackle Walter Jones were both elected in their first year of eligibility. Receiver Andre Reed, who spent his entire career with the Buffalo Bills, was also selected along with Aeneas Williams and Claude Humphrey.
Strahan, who totaled 141 1/2 career quarterback sacks, was picked for enshrinement by the Hall of Fame's 46-member selection committee yesterday, a day ahead of the Super Bowl. The Denver Broncos face the Seahawks today in the home stadium of Strahan's former team in East Rutherford, New Jersey.
"I'm thrilled for Michael," Giants President John Mara said on the team's website. "He was one of the greatest players in franchise history. Without him, there's no way we would have won Super Bowl XLII. Not only was he a huge part of that team because of his play on the field, he was the leader of that defense. The other players looked up to him."
The enshrinement ceremony is scheduled for Aug. 2 in Canton, Ohio, where Strahan and the rest of the 2014 class will have their bronze Hall of Fame busts unveiled and make speeches after receiving their golden jackets.
Strahan, 42, played 15 seasons in New York and was the leader of the Giants' team that won the Super Bowl during his final season in 2007. A four-time All-Pro, Strahan in 2001 set the NFL's single-season record with 22 1/2 sacks. He's now an analyst for Fox NFL Sunday and co-hosts the televised morning talk show "Live! with Kelly and Michael" with Kelly Ripa.
Strahan's Charisma
"He's more than a great football player, as evidenced by the work he's now doing and his popularity," Giants Chairman Steve Tisch said on the team's website. "People really like Michael Strahan. He's charismatic, he's smart, he's funny, he's charming. I think the Hall is a better place now that Michael Strahan is going to be there."
Guy, 64, kicked in the NFL for 14 seasons, all with the Oakland/Los Angeles Raiders and averaged 42.4 yards a punt while winning three Super Bowl rings. A three-time All-Pro, he led the NFL in yards per punt three times and was a member of the Hall of Fame's All-1970s team.
"He was such a unique and great punter that he changed the way that punting was viewed and changed the whole complexion of the game," former Raiders coach Tom Flores said on the team's website. "You always depended on him and knew that he would put you in positions where you could win the game, especially later in the game and win the field position battle, which is a big part of winning and losing."
Senior Nominee
Guy joins the Hall of Fame 27 years after his last NFL game with the Raiders. He had been chosen as a candidate by the seniors committee, a group of nine veteran selectors established to consider nominees whose active career has been completed for at least 25 years.
Brooks, 40, didn't miss a game over his 14-year career with the Buccaneers and made 208 straight starts over his final 13 seasons. A six-time All-Pro, Brooks won a Super Bowl title after the 2002 season and totaled 25 interceptions, six of which he returned for touchdowns. A member of the NFL's All-Decade team from the 2000s, Brooks also had 13 1/2 career sacks and 24 forced fumbles.
Reed, 50, spent 15 of his 16 seasons with the Bills, playing in four Super Bowls. When he retired in 2000, Reed ranked third in NFL history with 951 receptions. He's now 11th all-time. Reed had four 1,000-yard receiving seasons and his 13 seasons with more than 50 receptions are exceeded only by fellow Hall of Fame member Jerry Rice.
Left Tackle
Jones, 40, played his entire 12-year NFL career with the Seahawks and was one of the most dominant left tackles in league history. He started all 180 games he played and was selected an All-Pro six times.
Williams, 46, totaled 55 interceptions -- 20th in NFL history -- over 14 seasons with the Phoenix/Arizona Cardinals and St. Louis Rams. Called "one of the finest defensive backs ever" in his Hall of Fame profile, Williams was a cornerback for his first 12 seasons before moving to safety.
Like Guy, Humphrey was a senior nominee. Humphrey played 14 seasons at defensive end, earning five All-Pro selections, and was credited with 122 sacks even though it wasn't an official stat until after he retired in 1981.
This year's seven-man class was selected from a group of 17 finalists, 15 from the modern era and the two senior nominees. Among those who failed to gain election this year were former Indianapolis Colts and Buccaneers coach Tony Dungy, running back Jerome Bettis, former San Francisco 49ers owner Eddie DeBartolo Jr., defensive end Charles Haley and receivers Marvin Harrison and Tim Brown.
The original list of 126 Hall of Fame nominees was reduced to 25 semifinalists by the selection committee before the group was cut to the 15 finalists. To be eligible for induction to the Hall of Fame, modern-era players and coaches had to have been out of the NFL for at least five seasons.
Before it's here, it's on the Bloomberg Terminal.
LEARN MORE