Blumenthal Closes Restaurant for a Week After Norovirus Outbreak
Richard Vines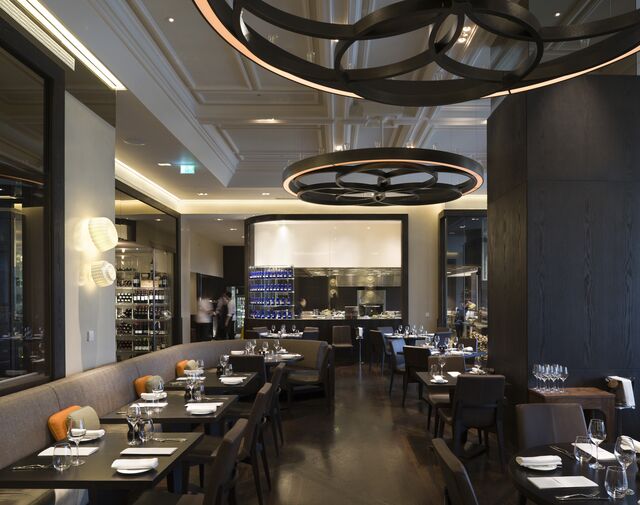 Dinner by Heston Blumenthal, the two-Michelin star restaurant at the Mandarin Oriental hotel in London, will close for a week after an outbreak of norovirus.
Managers contacted the health officer at Westminster City Council after receiving complaints from diners of sickness. Tests revealed the presence of the virus and the decision was taken to close last night.
"Results came back which found the winter flu bug in a total of five people," Dinner by Heston said in an e-mailed statement today. "We have decided to close the restaurant to carry out the appropriate measures to ensure the environment is completely safe and norovirus free."
Blumenthal shut his Fat Duck restaurant for two weeks in 2009 after 529 diners reported sickness. At Dinner by Heston, there were complaints from 10 tables, or 23 guests.
"Westminster City Council Food Safety officers have already carried out a thorough inspection of both the restaurant premises and working practices and will continue to work closely with Public Health England and the restaurant operators until the restaurant is given the all-clear," James Armitage, the council's food-safety manager, said in an e-mailed statement.
"We have already asked the restaurant to improve some of its hygiene procedures, including telling staff to wash their hands more often. All the changes were made immediately."
Blumenthal said the first complaint was received on Jan. 16. Health officials conducted tests in the restaurant with negative results. The decision to close came after further tests detected norovirus in three staff members and two guests.
"We are in a unique position of having an insight into the behavior of this winter flu bug," he said in a separate statement. The Fat Duck was criticized by the Health Protection Agency in 2009 for its slowness in reporting the norovirus outbreak.
Norovirus was behind a food scare last year at Noma, in Copenhagen, when 63 diners reported falling sick.
The outbreak in London was reported earlier on the Chef Hermes food blog, and the decision to close was reported in the Daily Mail.
(Richard Vines is the chief food critic for Bloomberg. He is U.K. and Ireland chairman of the World's 50 Best Restaurants awards. Opinions expressed are his own.)
Before it's here, it's on the Bloomberg Terminal.
LEARN MORE