Ballmer Beat Intel to Cisco as Apple Revived: Chart of the Day
Lee Miller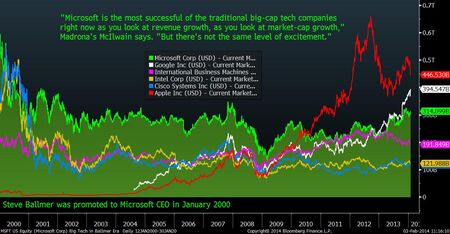 Steve Ballmer's tenure as Microsoft Corp. chief executive officer is poised to end with Apple Inc. and Google Inc. bigger by value. His 14-year stint also had brief periods when Cisco Systems Inc. and Intel Corp. held the title of most-valuable technology company.
The CHART OF THE DAY tracks market capitalizations of the five companies starting from Jan. 12, 2000, the day before Microsoft announced Ballmer, 57, would take over day-to-day management from founder and Chairman Bill Gates. The Redmond, Washington-based company's value peaked at $594 billion about a week later, before the official power transfer on Jan. 27 that year. Apple, worth about one-fortieth of Microsoft when Ballmer started as CEO, has been the biggest company since May 2010, data compiled by Bloomberg show.
"Microsoft is the most successful of the traditional big-cap tech companies right now as you look at revenue growth, as you look at market-cap growth," Matt McIlwain, managing director at Seattle-based Madrona Venture Group, told "Bloomberg West" television. "But there's not the same level of excitement."
Cisco and Intel each had brief stints as most-valuable in 2000 and 2001, in the midst of the so-called tech bubble. Google has been bigger than Microsoft for most of the past 14 months, while International Business Machines Corp. was briefly larger, as shown in the chart, in 2011, when Warren Buffett said his Berkshire Hathaway Inc. bought a stake.
Microsoft's board is preparing to make Satya Nadella, the company's enterprise and cloud chief, CEO and is discussing replacing Gates as chairman, according to people with knowledge of the process. Microsoft has only had two CEOs -- Gates and Ballmer -- in its history.
Before it's here, it's on the Bloomberg Terminal.
LEARN MORE