With Obama, CEOs Pledge to Stop Ignoring the Long-Term Unemployed
By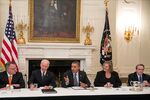 Five years after the collapse of Wall Street, almost 4 million Americans are caught in a terrible spiral: They're unemployed because they can't get a job, and they can't get a job because they are unemployed. The long-term unemployed now make up 37.7 percent of the total jobless population, according to a White House report released today on "the worst legacy of the Great Recession," including 2.6 million people who have been looking for work for a year or more.
Part of the reason for this is active discrimination by some employers, who automatically screen out applicants who aren't currently working. President Obama, as part of a set of actions following his Jan. 28 State of the Union address, issued an order to federal agencies to end such practices after a meeting today at the White House with 23 private-sector executives, who pledged to do more to hire the long-term unemployed.
"It's a cruel Catch-22," Obama said from the White House after the meeting. "The longer you're unemployed, the more unemployable you may seem. This is an illusion, but it's one that, unfortunately, we know statistically is happening out there."
More than 300 companies have signed on, including Apple and General Motors. Chief executive officers listed as attending today's meeting include several from the finance world—BlackRock's Larry Fink, Morgan Stanley's James Gorman, Bank of America's Brian Moynihan, and U.S. Bancorp's Richard Davis—as well as from Boeing, Marriott International, and Walgreen.
Corporate profits are at record levels, having soared 178 percent since their 2008 trough, as this chart shows:

Meanwhile, the national unemployment rate has only ebbed to a still-elevated 6.7 percent. That figure does not include Americans not actively searching for jobs—many of them discouraged by the pernicious psychological loop of not working. "Over time you can have negative feedback where it gets harder and harder for folks to get back in the game," Obama said. "That can have a long-term impact, especially if it's early on in a young person's career."
Long-term unemployed Americans are defined as those who have gone 27 weeks without a job. The category is improving unbearably slowly, Bloomberg Businessweek's Matthew Philips wrote on Jan. 30, with the average duration of unemployment now at 37.1 weeks, down from 38 weeks at the end of 2012. It's not a pretty picture:

Before it's here, it's on the Bloomberg Terminal.
LEARN MORE