VW Said to Push Hiring Renschler as Trucks Chief in 2014
Christoph Rauwald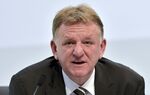 Volkswagen AG is pushing to hire former Daimler AG board member Andreas Renschler to succeed trucks chief Leif Oestling as early as this year, two people familiar with the matter said.
As part of the package to lure Renschler, VW has offered him a substantial budget to bring in more people to push integration among the German company's three commercial-vehicles brands, said the people, who asked not to be identified because the talks haven't been finalized.
The 25-year Daimler veteran and former contender to succeed Dieter Zetsche as chief executive officer resigned Jan. 28 as operations chief at Mercedes-Benz. Renschler is attractive to VW, which is seeking cost savings through closer cooperation among the Scania, MAN and VW commercial-vehicles nameplates, because he spent almost a decade running Daimler's truck unit, the world's biggest by revenue. His efforts included a profit-improvement project and adding production in China and India.
"It would be positive for VW to hire a successful executive from the largest truck manufacturer," said Frank Schwope, a Hanover, Germany-based analyst at NordLB. "As an external candidate, he's also less involved in any internal sensitivities between Scania and MAN."
Legal advisers are looking to minimize the non-compete period in Renschler's contract, arguing the role running VW's heavy-truck operations wouldn't make him a direct competitor with Daimler's passenger-car operations, where he most recently worked, one person said. VW officials declined to comment.
Non-Compete
Zetsche said last night in Munich that Renschler won't be allowed to go to a rival for the "foreseeable future."
"Generally our executives have a lock-up period that bars them from working for a competitor for a certain period of time," Joerg Howe, a spokesman at Stuttgart, Germany-based Daimler, said yesterday. "This period is typically six or 12 months." He declined to comment on Renschler's contract.
VW Chairman Ferdinand Piech said yesterday he couldn't comment yet on Renschler because the automaker's supervisory board still needed to decide on the matter, German daily Stuttgarter Zeitung cited him as saying.
"Afterward you can say, the best lure the best," Piech added, according to the report.
Oestling, whose contract expires next year and who personally knows Renschler, was involved in approaching the 55-year-old executive as a possible successor, one of the people said.
Cost Savings
Under the 68-year-old former Scania CEO, VW has pushed to save 200 million euros ($271 million) in costs annually through cooperation between Munich-based MAN, Swedish truckmaker Scania and VW-brand commercial vehicles. Joint projects are under way in purchasing, development, information technology, logistics, finance and legal affairs.
Volkswagen, based in Wolfsburg, has streamlined automaking costs by standardizing parts and technology across car brands such as Skoda, the VW nameplate and Audi. That has helped boost profitability as the company seeks to become the world's biggest automaker by 2018. VW is now working to adapt the strategy for its commercial-vehicle operations.
Product Cycles
Truck sales are prone to sharp shifts in demand because of the underlying economy and tightening emissions rules. Average product cycles of commercial vehicles are longer than in the car business, offering fewer opportunities for cost-saving joint development.
Daimler's heavy-vehicle division includes the Freightliner, Western Star truck and Thomas Built bus brands in North America, Fuso in Japan and Mercedes-Benz in Europe and Brazil.
Renschler outlined the Daimler Trucks No. 1 profit-growth program in mid-2012 to increase earnings by 1.6 billion euros through 2014, with cost reductions accounting for 70 percent of the anticipated gains. The measures also comprised rolling out new engine technology.
Under Renschler's leadership, Daimler has forged a truck joint venture with Beiqi Foton Motor Co. in China and set up the local Bharat Benz brand in India in the past two years.
Renschler, who switched jobs last year with Wolfgang Bernhard, decided to leave because his position at Mercedes didn't give him enough decision-making ability, two people familiar with the matter said yesterday. Renschler preferred running trucks, where he had free rein with strategic planning, the people said.
"Depending on when Renschler joins VW, he could theoretically even become one of the candidates to eventually succeed Martin Winterkorn as VW CEO -- he's got experience in both the trucks and passenger-car business," Schwope said.
Before it's here, it's on the Bloomberg Terminal.
LEARN MORE