The Government Doesn't Know How Much Its Student Loans Cost
By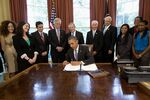 Depending on whom you ask, the government either makes tens of billions of dollars on the backs of student borrowers, or more or less breaks even. The debate, which boils down to the arcana of accounting techniques, was hotly contested last year, with Democrats such as Massachusetts Senator Elizabeth Warren decrying how the government "profits" off student loans. The controversy caused Congress to ask the Government Accountability Office to weigh in, which led to a report released today. The GAO came back with a non-answer, finding that there's no good way to know how much the government spends or makes on funding student loans.
The GAO said it could take as long as 40 years to figure the true costs of the program because there are so many variables, from the overall interest rate environment to the number of students who take advantage of different repayment options. In the meantime, the government is stuck using estimates that can vary greatly based on several factors, most important the amount students pay in interest and what it costs the government itself to borrow. The government readjusts its models each year based on more recent data, which can lead to highly volatile results. One year the budget assumed loans taken out in 2008 made the government $9.09 per hundred dollars borrowed. The next year it estimated the very same loans cost the government 24¢ per hundred dollars.
One figure is pretty clear: how much the Department of Education spends administering the loans. That's jumped from $314 million in 2007 to $864 million in 2012, reflecting changes in the federal program that removed banks as intermediaries and caused the number of loans directly issued by the government to increase threefold. Overall, the administration costs per borrower has stayed the same or even fallen slightly.
The overall difficulty in nailing down these estimates is an increasingly relevant problem as student debt tops $1 trillion—most of it financed by the government.
Before it's here, it's on the Bloomberg Terminal.
LEARN MORE