Smaller Airlines Face Creeping Costs as Big Rivals Soar
By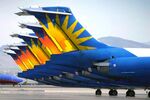 Investors reaped bounteous returns in 2013 from the airline industry, which is absorbing a merged American-US Airways and appears poised for even greater profits ahead. At some smaller airlines, however, a cloud of higher costs is marring the generally sunny outlook.
Shares of Allegiant Travel, parent of Allegiant Airlines, dropped 9 percent on Thursday after the company spooked investors with deeper spending than expected this year, most of it related to aircraft maintenance, pilot training, and costs associated with adding new Airbus jets to its fleet. The airline's monthly maintenance bill tops $100,000 for each of its 53 older McDonnell Douglas MD-80 airplanes, which date to the 1980s.
Even more spending lies ahead for new technology and other scheduling and sales platforms. "I sense that we have to make investments in the business—in our systems and operationally—and just to get ready to go to the next level," Allegiant Chief Executive Officer Maurice Gallagher told analysts. "So, well, those cost money."
Allegiant was forced to ground most of its fleet in September to inspect and repair emergency evacuation slides on its MD-80s. The company also disclosed on Wednesday that it is funding two business projects internally that it hopes will lead to revenue gains in the future, although executives declined to disclose details of its "non-airline subsidiaries"—a venture operation Gallagher dubbed "our little skunk works."
At JetBlue Airways, meanwhile, pilots are in line for a 20 percent raise over the next three years, which will cost roughly $145 million and take the company's non-fuel costs higher than many analysts had expected. "We're committed to remaining peer competitive with respect to pilot compensation," JetBlue CFO Mark Powers said on a conference call.
Atop the cost of better-paid pilots, the airline plans to hire about 125 pilots and is buying nine larger Airbus A321s with a premium cabin. JetBlue is also installing high-speed Internet access on its planes and finishing a new international arrivals facility at New York-JFK Airport. The company was also forced to cancel 1,800 flights in early January because of winter storms, which will cost about $30 million, and had to shell out more than $100 million last spring to repair nearly three dozen General Electric engines on its Embraer 190 fleet.
A third carrier, Hawaiian Airlines, is preparing to launch a turboprop operation with 48 seats, called 'Ohana by Hawaiian, to help the airline compete in the smaller markets of Molokai and Lanai. To date, rivals flying to those islands have faced no competition from the state's largest airline. The startup expenses—coupled with the financial hit that parent Hawaiian Holdings has taken on weak currency exchange rates from its Japan and Australia business—is leading to a cost creep that has many analysts expecting little in terms of financial return for 2014. The airline will also begin new flights to Beijing in April.
Hawaiian "is investing heavily in a long term oriented international diversification strategy, but the near term invested capital bloat from looming debt is a heavy anchor to drag in the interim, in our view," Wolfe Research analyst Hunter Keay wrote in a client note titled "Better value elsewhere."