Cruise Ships' Germ War Spurs Hand Sanitizer Skirmish
by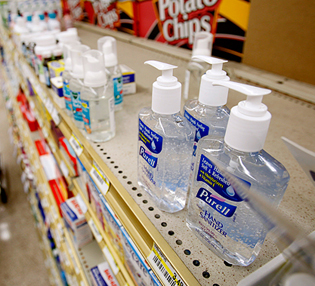 On most large cruise ships, there's no shortage of food, flamboyant décor, pricey drinks—and dispensers of Purell hand sanitizer.
The cruise industry has become militant about hygiene on its ships, and tactics in an unending war against norovirus now range from querying passengers about their health before they board to squirting sanitizer onto diners' palms before meals. The virus is durable and easily transmitted, meaning thousands of people in close proximity on an ocean voyage can quickly become ill.
That's what happened once again this week as more than 600 people, about a fifth of the passengers, fell ill on Royal Caribbean Cruises' Explorer of the Seas, which was ordered to port on Jan. 29, two days early. A second ship, Princess Cruises' Caribbean Princess (owned by Carnival) curtailed its Caribbean voyage and returned early to Houston on Thursday night after 165 of the ship's 3,104 passengers and 11 crew members were struck with norovirus. A third company, Norwegian Cruise Line Holdings, had a suspected norovirus outbreak earlier this month on its Norwegian Star that prompted health officials to collect samples when the ship docked.
The first line of defense for most cruise lines—just as in thousands of American hospitals, schools, and nursing homes—is a quick dash and rub of Purell, which is manufactured by Ohio-based GOJO Industries. Most mass-market hand sanitizers, including Purell, contain at least 60 percent alcohol in an ethanol-based formula that's effective at killing norovirus and other germs within 15 seconds and also dries quickly. But the dominant position of Purell hasn't stopped rivals from experimenting with products that don't have alcohol and can remain effective for several hours.
"Purell has become a name like Xerox," says Collette Cozean, chief executive officer of Innovative BioDefense, a Lake Forest, Calif., startup that has been selling Zylast, a water-based, nonalcoholic gel that claims to offer six hours of protection against common pathogens such as norovirus, E. coli, staph, and MRSA. The company says it's made inroads at facilities owned by JPMorgan Chase, the Hilton hotels chain, Outback Steakhouse, and New York University, but no cruise lines yet. "We've been crossing the hurdle of 'Does this work?' Purell right now really has the market share," says Cozean, a biomedical and mechanical engineer who purchased the company in 2011. And management at the cruise lines, she adds, "just really doesn't want to change."
Purell's history dates to 1988, when GOJO marketed the sanitizer as a way for health-care and food-service workers to clean their hands without soap and water. Purell expanded into the consumer market in 1997, and seven years later Pfizer purchased the brand. When Johnson & Johnson acquired Pfizer's consumer division in 2006, Purell was part of the deal. And in 2010 the sanitizer came full circle, as GOJO reacquired the brand.
Headline-grabbing sicknesses have a way of helping Purell, which saw sales surge—more than 70 percent by some estimates—during the H1N1 "swine flu" epidemic in 2009 that ultimately killed more than 200,000 people. Purell at the time was swift to capitalize on the marketing benefits of its germ killer. Privately held GOJO declined to discuss Purell sales.
"They really picked up a lot of sales in that time," Cozean says. "And then a lot of people"—including her company—"came into the market doing the exact same thing."
The cruise industry cottoned to Purell partly because the U.S. Centers for Disease Control and Prevention and other public-health agencies have endorsed alcohol-based liquids as an effective germ killer when washing with soap and water aren't possible. It was also one of the few mass-marketed brands widely available in a field that has numerous tiny players. "Because of the risk of illness spread in the cruise industry, we believe we have a public-health responsibility as hand hygiene experts to share our data with the cruise industry," Joan Bryan, a Purell vice president, wrote in an e-mail. Purell contends that it's more effective than nonalcoholic sanitizers because it dries faster and leads to more frequent use.
Innovative BioDefense has 600 sales representatives and sold about $10 million worth of its Zylast products in the first two weeks of January. "Financially, I would say it's slower than I expected because people really felt they had been burned by putting in some of the alcohol sanitizers and not having them work," says Cozean, who also founded a dental-laser firm in the 1990s. "People had been misled in the past."
Despite periodic headlines about "floating petri dishes," meanwhile, the cruise industry maintains that its sanitizer-fueled battle against norovirus has been remarkably effective: By the industry's count, only 1,238 of its 21.3 million passengers became sick last year.
Before it's here, it's on the Bloomberg Terminal.
LEARN MORE