Kellogg Profs: Why We Make Our MBAs Watch Super Bowl Ads (and Tune Out the Game)
Tim Calkins and Derek D. Rucker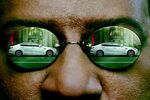 As the Denver Broncos and Seattle Seahawks take the field this Sunday, more than 50 MBA students at Northwestern University's Kellogg School of Management will watch the game together. Their focus won't be on who's winning the Super Bowl; as marketing professors, we've asked them to judge which company has the best advertising game.
This isn't your typical dips 'n wings Super Bowl party. Students will sit at tables, armed with score sheets. They'll be silent during the commercials and only tune out, chat, and relax when the teams are playing. There will soda, but no booze.
For most people, this isn't the most enjoyable way to watch a Super Bowl, yet every year hundreds of Kellogg MBAs apply for the limited seats available. Why do students subject themselves to this ritual?
At the Kellogg Super Bowl Advertising Review, we focus on the business impact of each ad. The panel doesn't dwell on humor or creativity alone. The students will use their training to evaluate the strategic value of each ad: Will it build the business and strengthen the brand? Using a six-part framework to assess each spot, they consider factors such as attention, distinction, and linkage between the creative and the brand.
Many people evaluate Super Bowl ads, and the attention is usually on entertainment value. Kellogg has a very different approach. A spot that is exceptionally funny and clever, for example, might score poorly with our panel if the brand message is weak.
At the end of the game, we tally up all the scores and then rank the advertisers. We give the best a grade of A and the worst a D, or even an F. In 2013, Procter & Gamble's Tide brand won the review with a spot that focused on a stain that resembled Joe Montana. The spot broke through the clutter and delivered a clear message about Tide. (This year several ads were good enough to get an A, but Microsoft's emotional spot with a former NFL player battling ALS finished at the top of our review.)
This is the 10th year of the Kellogg Super Bowl Advertising Review. We run the event to help students apply critical marketing concepts in real time. The challenge with teaching business, especially marketing and strategy, is that simply learning concepts isn't enough; you have to understand how to apply the ideas and develop the confidence to lead.
Many of the ideas we teach seem fairly easy. Positioning a product or service, for example, isn't a difficult concept; people quickly grasp the importance of having a target audience and a clear benefit. The challenge becomes evident only when you try to position an actual product or service. Simple concepts become complex in practice. Evaluating the success of ads is a similar challenge.
In the Kellogg review, students have to use what they learn in class to evaluate each ad. During the game, they will score more than 50 ads. Each time, they have to consider the ad and then try to analyze its impact. Is the branding clear? Is there a benefit? What will people recall? After doing this dozens of times, their mind becomes better acclimated to being able to evaluate ads upon moments of viewing.
It is important for a business leader to know concepts like customer focus and such frameworks as a positioning statement. It is even more important for them to be able to apply the concepts with accuracy and confidence. Experiential learning moments such as this play a critical role in business education by honing such skills. It's more than a game.
Before it's here, it's on the Bloomberg Terminal.
LEARN MORE