Japan Tobacco Advances in Tokyo on Increase in Mevius Price
Yuki Yamaguchi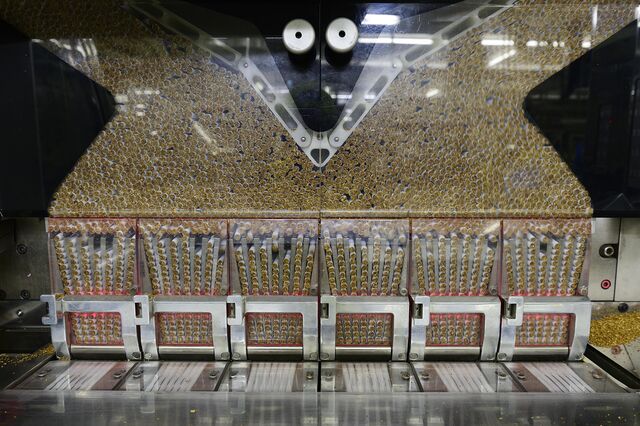 Japan Tobacco Inc. rose by the most in 10 months in Tokyo trading after raising its profit forecast and saying it would increase domestic prices by more than some analysts expected.
The maker of Camel, Winston and Mevius cigarettes jumped as much as 6.7 percent, the biggest intraday gain since March 13, to 3,228 yen before trading at 3,159 yen as of 11:03 a.m. local time. Net income will probably increase 23 percent to 423 billion yen ($4.1 billion) in the year ending March 31, the Tokyo-based company said in a statement yesterday.
Japan Tobacco has applied to the government to raise prices for most cigarette brands by 10 yen a pack for some brands and 20 yen for others in conjunction with a planned April increase in the country's consumption tax. The company's domestic sales volume growth has been sluggish because of tax increases and rising awareness of illnesses caused by smoking.
"There was a positive reaction to the 20-yen price increase for Mevius," said Yoshiyasu Okihira, an analyst at SMBC Nikko Securities Inc. "Investors had thought the increase would be about 10 yen based on previous media reports."
Mevius, the company's leading brand in Japan with about 30 percent of the market, will increase by 20 yen to 430 yen a pack, partly to reflect an increase in the nationwide sales tax to 8 percent from 5 percent in April.
"JT is emphasizing profitability rather than share in pricing Mevius, which we find positive," Keiko Yamaguchi, an analyst at Goldman Sachs Group Inc., wrote in a note to clients dated today.
The company's projection for net income of 423 billion yen compares with the previous forecast of 415 billion yen and the 431 billion-yen average of 19 analyst estimates compiled by Bloomberg.
In the nine months ended December, sales rose 0.6 percent to 530 billion yen for the domestic tobacco business, compared with a 24 percent surge to 931.8 billion yen for overseas tobacco revenue, according to the company's statement yesterday after the market closed.
Overseas tobacco sales for the 12 months ending March will probably be 1.27 trillion yen, compared with the previous forecast for 1.245 trillion yen, according to the statement. The company left its projection for domestic tobacco sales of 703 billion yen unchanged.
Before it's here, it's on the Bloomberg Terminal.
LEARN MORE