HBS Professor Writes Blog Post, U.K. Stock Loses $390 Million
By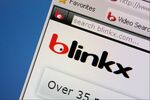 Bloomberg View's Jonathan Weill calls attention to the case of Benjamin Edelman, an associate professor at Harvard Business School who appears to have single-handedly sent the stock price of a U.K. company plummeting after publishing an article on his website last week.
In a long blog post dated Jan. 28, Edelman highlights what he calls deceptive business practices at digital media company Blinkx. You can read the entirety of Edelman's work here. The TL;DR version goes something like this: Edelman says that Blinx, which was recently worth more than $1.2 billion, employs Internet advertising techniques, including pop-up ads, that users dislike, and that cause advertisers to be charged for "video ads systematically not visible to users."
In a disclosure at the end of his piece, Edelman says he "prepared a portion of this article at the request of a client that prefers not to be listed by name." He also says, "If I traded in the companies I write about (I don't!), I'd be short Blinkx."
Shares of Blinkx, which trade on London's Alternative Investment Market, fell by as much as 50 percent after Edelman published his article. The company last traded at £127.50 ($209.72), down 32 percent from Jan. 28. The drop wiped out £237 million ($390 million) of Blinkx's market cap.
Blinkx noted Edelman's affiliation with an unnamed client in a statement filed Jan. 30 with the U.K.'s Regulatory News Service. "Blinkx strongly refutes the assertions made and conclusions drawn in the blog post," the statement says. "The Company confirms there has been no material change to the operational and financial performance or outlook for the business." Blinkx has partnerships with media companies including NBC, Condé Nast, and Bloomberg, according to the statement.
In a 2004 article, Businessweek cast the then-24-year-old Edelman as the "scourge of adware," and noted his research into companies that targeted pop-up ads at Internet users based on the websites they visited.
"I make serious allegations and support the allegations with appropriate evidence," Edelman says in an e-mail. "It would be great to hear Blinkx's response in substance."
Before it's here, it's on the Bloomberg Terminal.
LEARN MORE