Daiwa Quarterly Profit Triples on Brokerage Commissions, Trading
Takahiko Hyuga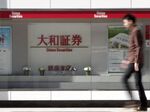 Daiwa Securities Group Inc., Japan's second-largest brokerage, tripled quarterly profit as a stock-market rally fueled commissions and trading income.
Net income rose to 43.4 billion yen ($424 million) for the three months ended Dec. 31 from 14.1 billion yen a year earlier, the Tokyo-based firm said in a statement today. The result exceeded the 35 billion-yen average estimate of seven analysts surveyed by Bloomberg News.
Daiwa joined its larger peer Nomura Holdings Inc. in boosting earnings by trading shares for individual investors. Japan's stock rally has stalled this year, with the Nikkei 225 Stock Average capping off its worst month since May 2012 today amid concern that growth in emerging markets will slow.
Revenue rose 31 percent from a year earlier to 163.4 billion yen, Daiwa said. Brokerage commissions climbed 99 percent to 22.7 billion yen and trading profit advanced 48 percent to 45.2 billion yen. Underwriting fees gained 48 percent to 8.3 billion yen.
Shares of Daiwa closed 1 percent lower in Tokyo today, and the Nikkei 225 slid 0.6 percent to 14,914.53. The gauge, the best performer among developed markets last year, dropped 8.5 percent in January.
Daiwa Chief Executive Officer Takashi Hibino said in November that the Nikkei 225 will probably exceed 18,000 this year for the first time since 2007.
Nomura's net income rose to 48.3 billion yen last quarter, taking the nine-month total to 152.3 billion yen, the Tokyo-based firm reported yesterday. The result puts Japan's largest brokerage on course for the biggest annual profit in eight years.
Before it's here, it's on the Bloomberg Terminal.
LEARN MORE