Pretty Late to Make Super Bowl Plans. That Doesn't Mean You Have to Wing It.
by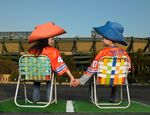 Having your closest married friends over for a pot-luck Super Bowl party? In all likelihood, work or kids swallowed up all their free time in January, they've already eaten pot luck three nights in a row and they've just recovered from the holidays' in-law-fest. Now they should feast on canned bean dip and an industrial drum of KFC chicken mementos while you boil up pasta for half a dozen kids?
You know, it would be fine.

Or: "Put in some effort!" says web designer JoAnne Lambert. "I want to have fun, which means good food, decent booze and good company. And it should be stress-free."
It's not too late, young marrieds of New York. (Have you never heard of calling an audible?) In the interest of your happy and enduring union, Loot has sought out professional help.
Go Long
Carli Roth endorses the "on-demand party" and says you can still ditch your cramped apartment and head out into the wilds. In fact, she's already created a couples-friendly Super Bowl for a no-excuses $25 ticket price.

"Married couples want to watch the game, not the keg stands. They want to catch up and not yell over a DJ. And they want to get drunk without worrying what shows up on Instagram," says Roth, co-founder of party-planning service Host Committee. The idea is to tailor the party to you (open bar, anyone?) and ensure there's no velvet-rope hassle at the door.

"Sometimes couples struggle with ideas of what to do on date night," says Rachel Sussman, a relationship expert and licensed therapist. "They want to be adventurous, but they don't want to do too much work. So look at Super Bowl night as taking the pressure off. It's something fun to do together, and new scenery is a good thing."
Handoff

What if you're already hunkered down for your stay-in soirée?
Like many private caterers, Victoria Ingrassia offers a wide price range depending on the menu, and says her parties range from $20 to $200 per person for more upscale fare. "We'll do pretty much anything to make the party successful," she says. "While I'm cooking, my wait staff is handling flow, which means everything from hanging coats, clearing plates, managing music" and making sure glasses are filled. Loot discovered Ingrassia in action at a recent 50-person holiday party and found her cool under pressure. She works on word of mouth alone; news of her pulled-pork hors d'oeuvres spreads fast.
For creativity, it's hard to beat Nova Catering , whose $85-a-head Super Bowl menu includes a pizza bar (truffled asparagus, anyone?), an assorted burger bar and white bean chili with crispy pork. "We're serving the classics, but in a fun, interactive way that doesn't distract from the game," says chef-owner Christophe Barbier. Nowhere to put it all? No problem. These guys supply the tables, the bar and the signature cocktails to match.
Possession
If you're making your own food, as part of the stubborn joy of hosting, at least take some tips from the pros.
Martha Stewart and Emeril Lagasse are currently on a televised crusade to get your football fare ready for your foodie friends. (There is nothing worse than disappointing your foodie friends.) Check out Martha's saffron roasted chicken wings or homemadepigs-in-a-blanket or Emeril's layered crazy nachos . Whatever you do, choose a menu you can prepare ahead of time. That way you and your guests aren't missing the climactic, or anti-climactic, field goal.
On a diet? Not today you're not. It's February, resolutions have been broken by now and crazy chips laden with guacamole and sour cream are not only acceptable, they're expected. Go big. If a wayward singleton asks for your status, it's Fatty.
Where to couch it: You've probably been to that Super Bowl party where the men are huddled in front of the screen debating the high-def resolution while the women are elsewhere, drinks in hand, sharing he-did-what?? horror stories or pictures of their toddlers. It doesn't have to be this way. Sussman, the therapist, says, "Mix it up. Arrange the room and the food so that people aren't huddled in the kitchen. I know plenty of women who love football, and they want to be in the mix!"
We do? Oh, yes! We do!
Before it's here, it's on the Bloomberg Terminal.
LEARN MORE