Barclays Targets Africa Investment-Bank Expansion Amid Job Cuts
Renee Bonorchis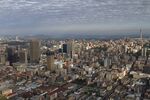 Barclays Plc's South African unit said its investment bank plans to extend brokerage, equity trading and other services into the rest of the continent as part of a two-year plan to boost profit.
"We're in the top 10 in Africa, we've got to get to the top five," Stephen van Coller, head of Absa Capital, the Johannesburg-based investment bank of Barclays Africa Group Ltd., said in a Jan. 27 interview. "Trading and investment banking very much has an African focus now."
Absa Capital is bidding to win corporate clients and market share in Africa as competition from Rand Merchant Bank and Goldman Sachs Group Inc. reduces opportunities in South Africa. The expansion on the continent comes as Barclays, owner of 62.3 percent of the South African lender, cuts jobs in the U.K.
Absa Capital, South Africa's largest seller of corporate debt, will target bond sales, Van Coller said. Dollar-bond sales from African governments and companies rose to a record $9.68 billion last year from $6.04 billion in 2012, Megan McDonald, Standard Bank Group Ltd.'s head of debt primary markets, said on Oct. 31.
Following the South African unit's purchase of Barclays's operations in eight African countries last year, the investment bank has access to offices, customers, staff and information in nations including Kenya, Ghana, Mozambique and Botswana.
Multinational Clients
One of the investment bank's goals is to increase corporate clients and win multinational business by using an online banking tool developed by its parent company, Van Coller said. Barclays.net offers a range of services, including allowing company treasurers to use an iPad to pay salary bills across several countries in multiple currencies, he said.
"We can properly compete for the multinationals" and challenge banks like Citigroup Inc., which uses a tool called CitiDirect to attract corporate clients, Van Coller said.
Absa Capital, which started offering the online tool in South Africa in September, is targeting a 10-fold increase to 300 corporate customers using Barclays.net this year. "Then we can start being truly competitive on African cross-border transactions," he said.
Carrefour SA, France's largest retailer, Nissan Motor Co. and Marriott International Inc., the U.S.'s largest publicly traded hotel chain, are among the companies planning to expand into Africa as the World Bank forecasts growth on the continent to accelerates to 6.7 percent this year.
Barclays, the U.K.'s second-largest bank by assets, may eliminate 520 corporate-banking jobs to reduce costs, labor union Unite said yesterday. The London-based lender also plans to cut hundreds of jobs at its investment bank, a person with knowledge of the discussions said this week.
Barclays Chief Executive Officer Antony Jenkins said last February that he is seeking to remove 1.7 billion pounds ($2.8 billion) of annual expenses by 2015, eliminating 3,700 positions.
Before it's here, it's on the Bloomberg Terminal.
LEARN MORE