business
Watching the World's Largest Human Migration as China Goes Home for the Holidays
Christina Larson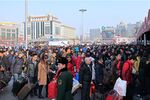 China's leading search engine, Baidu, knows where the people are, and it knows where they're going—at least those who use Baidu maps or its other ubiquitous location-based services accessed on smartphones. With all that data, Baidu has compiled a stunning heat map showing travel routes during the Spring Festival—also known as the Chinese New Year—when families traditionally return to celebrate in their hometowns.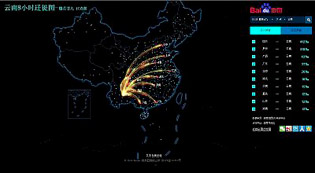 This year 3.6 billion total passenger journeys are expected by plane, train, bus, car, motorcycle, and more during the 40-day festival period. The flood of travelers constitutes the world's largest annual human migration.
The most common point of departure is Beijing, according to Baidu's data, and the capital has indeed been unusually quiet over the past few days as the bustling city gradually empties out. Those who stay in town tend to forgo the usual workday commute, which partially explains the lovely blues skies this Thursday morning.
The holiday period began on Jan. 16, and the most important date comes tomorrow, Jan. 31, with the Lunar New Year day. Most travelers will have arrived, hopefully, at their destinations before then. The Baidu heat map also reveals how China's population is concentrated in the southeast, with far fewer journeys to and from destinations in far western China.
Not everyone in China is traveling domestically. It's also common to use the holiday period—one of two annual stretches when most people have a week off work—to travel abroad. According to recent figures from the U.N. World Tourism Organization, 2013 marked the second year in a row that China was the largest outbound tourism market.
The number of outbound Chinese tourists is expected to keep growing rapidly, reaching 200 million by 2020, according to estimates by Hong-Kong research firm CLSR. And an increasing share of Chinese tourists will be traveling outside of Asia on holiday—especially, CLSR projects, to France and the U.S., both of which capture the contemporary Chinese imagination.
Before it's here, it's on the Bloomberg Terminal.
LEARN MORE