The Wolves Still Prowl Wall Street
New York's financial district is a hub for boiler-room veterans
By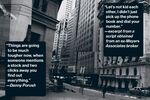 When Paul Taboada ran Charles Morgan Securities at 120 Wall St., he set himself apart by wearing suits with his brokerage's name stitched into the pinstripes. After closing the firm in 2012 amid an investigation by regulators, he moved to Blackwall Capital Markets at 100 Wall St., where trainees call hundreds of strangers a day to pitch stocks. "What Wall Street does is it affords the common man participation in deals the institutions are doing," says Taboada.
Twenty years after Stratton Oakmont defrauded investors out of more than $200 million from its offices on Long Island—a story retold in the movie The Wolf of Wall Street—New York's financial district has become a hub for veterans of defunct boiler rooms who use decades-old scripts to pressure investors into speculative trades, more than 40 current and former brokers said in interviews.
"They're preying on the few people who still answer a landline phone," says Joshua Brown, chief executive officer of Ritholtz Wealth Management in New York.
There are at least 15 chop shops, as brokers call them, within a few blocks of the New York Stock Exchange. One of the biggest, John Thomas Financial at 14 Wall St., closed last year. Except for Deutsche Bank at 60 Wall St., the big banks have abandoned the area's cobblestone streets for offices elsewhere in Manhattan.
Two brokerages that use cold-calling—John Carris Investments and Aegis Capital—are at 40 Wall St., the 72-story skyscraper completed in 1930 for the Manhattan Company. Carris founder George Carris is fighting Financial Industry Regulatory Authority allegations that he used the firm's money to cover $590,000 of personal expenses, including more than $10,000 spent on tattoos. He did not respond to messages seeking comment. Michael Ference, a lawyer for Aegis, says that only three of the firm's brokers at 40 Wall St. engage in what he calls prospecting.
Sean Scott says he made $20,000 in a good month at Carris. "A broker can make a hell of a lot of money just making a few trades here, a few trades there," says Scott, who worked at Carris in 2011 and is now an adviser at Merrill Lynch in Florida.
Most of the brokers aren't leading glamorous lifestyles. These days, trainees are paid $250 to $300 a week, and brokers say they sometimes go months without earning a commission. Payday at the downtown brokerages is typically the 15th of the month. Attendance is poor on the 16th, the brokers say.
One former Blackwall broker, who asked not to be identified, says in good times he'd call his cocaine dealer and head for Atlantic City. An ex-trainee at Meyers Associates at 45 Broadway says his boss would give him $100 to run across the street to cash checks for thousands of dollars.
There's nothing illegal about cold-calling. The boiler-room operators of the 1990s mostly got into trouble for having their brokers unload penny stocks—securities of very small companies that trade below $5 per share—they secretly owned on unsuspecting investors. The schemes were so profitable that the organizers could afford to pay the brokers 20 percent commissions.
No one's paying that much any more, the brokers say. Regulators have grown more adept at unraveling fraud. The National Do Not Call Registry has both limited phone solicitation and made it less acceptable. Most people know they can trade stocks online for about $10 and run a Google check on a brokerage, the brokers say. "Stratton Oakmont was before the Internet," says Danny Porush, Stratton's president, who served about two years in prison for securities fraud. "Things are going to be much tougher now, when someone mentions a stock and two clicks away you find out everything."
That doesn't stop brokers from trying, Armed only with the names of business owners on index cards, trainees call leads, using scripts that haven't been updated in years. "Let's not kid each other, I didn't just pick up the phone book and dial your number," one script obtained from an ex-Meyers broker reads. "Opportunities like this do not come along every day." When a person answers and doesn't hang up, the trainees tout their Wall Street addresses and say their boss will call back with one good stock tip. The boss then calls to recommend a well-known stock. A few months later they'll pressure investors to sell and switch into other shares, charging commissions of about 3 percent on each trade. "You would never see a larger firm do that," says Ritholtz CEO Brown. Some investors who make money on initial recommendations are told to up their bets and are introduced to penny stocks or private placements, which generate higher fees, the brokers say.
One 18-year veteran says his clients always lose eventually. For every prospective investor who listens to a pitch, hundreds of others hang up. "There could be days when you're dialing nonstop, and nothing," says Jorge Ferreira, a broker at Blackwall. He's worked for at least 20 other brokerages. "I stopped counting," he says. "There's a lot of scumbag owners."
Taboada, the broker with the custom suits, has seen a lot in his 24-year career. Four of the firms he's worked for have been kicked out of the securities business. A client was sent to jail in 2010 for a fraud prosecutors said Taboada aided, though he was never charged. He says he doesn't cold call and that it's wrong to tie him to the defunct brokerages. Blackwall CEO Kevin Chen says what his brokers do is legal and that Taboada is a useful employee. A lawyer for Taboada, Michael Bachner, says, "The absence of charges speaks for itself."
At Charles Morgan, Taboada set up a fund for investors to buy stock in Facebook before the company went public in 2012. Four ex-employees say clients were angry when they learned they had paid $10 a share more than they thought.
Taboada hasn't been charged with anything related to the fund or accused of any wrongdoing, though Finra records show he's been under investigation since 2012 for unspecified violations. That hasn't slowed him down. According to a January regulatory filing, he'd raised $9.5 million for Mogo Industries, a fund he created to invest in Palantir Technologies, a Silicon Valley data-analysis firm.
Before it's here, it's on the Bloomberg Terminal.
LEARN MORE