Crime Hobbles Venezuela's Economy
Bosses flee, cinemas close early, foreign capital goes elsewhere
By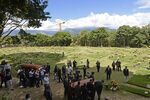 The murder on Jan. 6 of Monica Spear, a well-known actress and former Miss Venezuela, and her husband attracted world attention to a problem that has plagued Venezuelans and their economy for years: violence. When her Corolla broke down, Spear was robbed and shot in front of her 5-year-old daughter, who survived a gunshot wound.
Venezuela says the country's murder rate is 39 per 100,000 people, but the Venezuelan Violence Observatory, a nongovernmental organization, says the official figure is too low; it estimates that 24,763 people were killed last year, or 79 per 100,000 people. Along with kidnappings, thefts, and extortions, that's earned Venezuela the No. 3 spot, after Honduras and Guatemala, as the economy most damaged by violence, according to the World Economic Forum's Global Competitiveness Report 2013-2014. The country is also the worst in the world for attracting talent and second worst after Myanmar for retaining it, according to the survey.
"The difficulties of operating under Hugo Chávez's revolution and his hostile policy against the private sector have hidden the economic impact of violence and crime," says Jorge Restrepo, an economics professor at Colombia's Pontificia Universidad Javeriana. An adviser to a United Nations Development Programme study on the cost of crime to Latin America's economies in 2013, Restrepo says Venezuela is "losing no less than 5 percent of its GDP" because of murders and other crime. "The cost of the violence in Venezuela is probably similar to the 4.8 percent of Colombia GDP that was lost to crime when the homicide rate reached 83 per 100,000 inhabitants in 1992."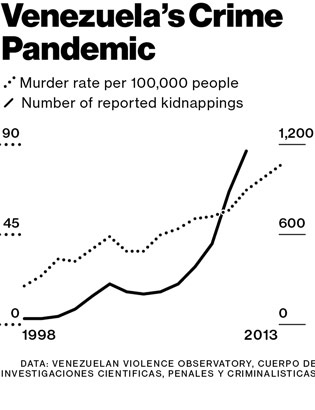 Crime affects an economy in many ways. "The first effect that violence has on an economy is the way it limits international capital flows," says Hugo Frühling, professor at the Public Affairs Institute of the University of Chile, who also participated in the UNDP study. "The high rates of crime also hurt people's confidence and the possibility for entrepreneurship."
Venezuelan gangs extort companies in construction, oil services, steel, real estate development, and other businesses, says Frank Holder, FTI Consulting's chairman for Latin America. Interior Minister Miguel Rodriguez Torres said at a press conference on Jan. 24, after returning from southeastern Bolivar state, that armed gangs disguised as labor unions in the state "do as they like" and extort construction companies. "They are striking terror into the hearts of not only the owners," he said, "but also the workers."
Jorge Roig, president of the Venezuelan Federation of Chambers of Commerce, says crime directly influences companies in their decisions to do business in the country or stay away. "There are executives who don't want to come out of fear," he says, "and a lot of owners of Venezuelan companies who live abroad and whose companies produce less as a result."
President Nicolás Maduro, Chávez's successor, called for an "iron fist" to smite criminals after Spear and her husband were murdered. FTI's Holder, basing his estimate on what Colombia spent in its war on the drug cartels, says Venezuela may need $170 billion to significantly reduce crime.
Until the government cracks down successfully on crime, many Venezuelans will stay home at night. The UN study ranks Venezuela third, after the Dominican Republic and El Salvador, for people staying home instead of going out to shop, dine, or see a show after dark. Caracas moviegoers can no longer catch the 11 p.m. show—theaters stopped offering late-night screenings.
Even doctors are affected by omnipresent crime. "My patients and colleagues don't want to be in my office after 6 p.m.," psychiatrist Edgar Belfort says. "The country is being paralyzed because of this violent situation."
BOTTOM LINE -
The bottom line: With a murder rate approaching that of Colombia in the 1990s, Venezuela loses 5 percent of GDP to crime.
Before it's here, it's on the Bloomberg Terminal.
LEARN MORE