Ukraine Is Caught in a Tug of War
The country's economic woes give Russia's Putin leverage
By and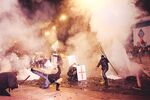 The antigovernment protests in the Ukrainian capital of Kiev are finally getting results. The prime minister has resigned, and President Viktor Yanukovych, who triggered the demonstrations by abruptly refusing to sign a trade treaty with the European Union, has 60 days to form a new government. Yet the protesters in Independence Square say they won't budge until Yanukovych calls new elections, which polls suggest he would lose by a wide margin. "People will resist," says Volodya, a computer programmer from Kirovohrad patrolling the area, who declined to give his last name. "They will stay here until the bitter end."
The crisis, which has claimed the lives of six demonstrators, is not winding to a close. Even if the protesters get everything they demand, the country will likely remain deeply divided over relations with its neighbors, and there are no straightforward solutions for its economic problems. A poll by the Kiev International Institute of Sociology found that 39 percent of Ukrainians want to join the EU, while 37 percent prefer closer ties with Russia. Pro-EU sentiment prevails in Kiev and western Ukraine, while the south and east, settled by ethnic Russians in tsarist times, are pro-Russia.
Just after the fall of the Soviet Union, per capita income in Ukraine was about the same as in Latvia and Poland. Now incomes in those countries are more than twice those in Ukraine, according to the International Monetary Fund. Ukraine's weakness has given Russian President Vladimir Putin more leverage to pull it into Russia's economic and political orbit. Ukraine is the key route for shipment of Russian gas to Europe via pipeline. And with the Russian economy in a slump, Putin is "focusing on his vision of recreating a Greater Russia," says Timothy Ash, chief economist for emerging markets at Standard Bank in London. Ukraine, the second-largest former Soviet republic, would be a linchpin in a regional customs union Putin is creating.
The Russian president in December pledged to lend Ukraine $15 billion, of which $3 billion has already been spent on buying Ukrainian government debt. Russia also offered the country a big discount on natural gas. Putin has said he will not take back those gifts even if a pro-Europe party forms the next government in Ukraine. But he warned of repercussions if Ukraine agreed to the EU trade pact. Russian First Deputy Prime Minister Igor Shuvalov said on Jan. 28 that the Kremlin would "reconsider" its aid if Ukraine started pursuing "another agenda, other priorities."
Much as they dislike the Russians, the protesters probably wouldn't like what the EU would demand in exchange for aid if Russia pulled the plug. But, says analyst Jörg Forbrig of the German Marshall Fund in Berlin, "There's a clear understanding in the EU that Ukraine's ills today are the result of its nonreform." The changes required to reach market-economy status for eventual EU membership would be painful for most Ukrainians. They enjoy cheap subsidized natural gas, generous social programs, and a currency that until recently was propped up by the central bank.
While the EU wants closer ties with Ukraine, last year it offered a loan of only €610 million ($834 million) as enticement to sign the trade agreement. The pact would lift existing barriers between Ukraine and European markets, while requiring Kiev to adopt judicial and regulatory reforms and release imprisoned opposition leader Yulia Tymoshenko. Putin then swooped in with his financial lifeline after persuading Yanukovych to walk away from the EU deal. European leaders blamed the Russians for the crisis and even floated the idea of sanctions against Ukraine if more blood is shed. But in the Europe-Russia tug of war the Russians are more motivated.
Ukraine's biggest problem "is not who's running the country, but the dominance of populist rhetoric," says Lilit Gevorgyan, an analyst at IHS Global Insight in London. "This dictates economic policies that are wasteful and drag Ukraine deeper into debt." The country doesn't seem to have a leader who can heal the wounds and maneuver between Russia and Europe. Leading opposition politicians lost credibility by failing to tackle corruption and fix the economy after the 2004 Orange Revolution toppled an earlier pro-Russia government. "There's a gap of trust between the protesters and many of the official opposition parties," says Andrew Wilson of the European Council on Foreign Relations. Former boxing champion Vitali Klitschko, a leader of the recent protests, is charismatic but has little experience. Opposition leader Oleh Tyahnybok, head of an ultranationalist party, has stirred controversy with remarks about a "Muscovite-Jewish mafia" running Ukraine.
Ukraine is unlikely to default on its sovereign debt, as long as Moscow is buying its bonds. Without Russia's help, the situation would be grim: Credit agencies have slashed Ukraine's debt rating to seven notches below investment grade; yields demanded by investors spiked to more than 20 percent, effectively locking it out of bond markets before Russia intervened.
Currency devaluation is a more urgent concern. Ukraine has spent half its foreign currency reserves to prop up the hryvnia since 2011. The central bank recently allowed it to slide, and the currency has fallen almost 3 percent this year. Liza Ermolenko of Capital Economics predicts it will soon fall an additional 15 percent. That will help exports but fuel inflation, which can be toxic for a fragile economy. Devaluation is "fraught with danger, and things could spiral out of control," Ermolenko says.
BOTTOM LINE -
The bottom line: Ukraine, financially strapped and in the midst of a political crisis, is torn between allying itself with the EU or Russia.
Before it's here, it's on the Bloomberg Terminal.
LEARN MORE