business
The Long-Term Unemployment Problem Is Getting Slightly Better
By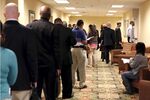 In his State of the Union address this week, President Barack Obama hit the economy right off the top. In his second full sentence, he invoked the 8 million jobs created during his time in office. Since peaking at 10 percent in October 2010, the unemployment rate has indeed fallen more than 3 percentage points. But whatever encouragement you glean from that should be checked by a new report on long-term unemployment from the Economic Policy Institute. Its most depressing finding:
"There are 28 states, plus the District of Columbia, where more than a third of the unemployed have been jobless for six months or more. In New Jersey (46.6 percent), the District of Columbia (46.6 percent), and Florida (46.2 percent), nearly half of the unemployed are long-term unemployed."
Here's a screenshot of EPI's interactive map:

On a national level, the situation has improved ever so slightly. The number of people out of work for 27 weeks or longer fell to 3.8 million in December, down from 4.7 million 12 months earlier. The average duration of unemployment is now 37.1 weeks, down from 38 weeks at the end of 2012. Here's what that looks like going back to 1970.

Even at the height of the 1983 recession, the average duration of joblessness was just 21 weeks, nearly half as long as today.
What's striking to me about the EPI map is that the problem is worst in some of the most populous parts of the country. Based on the 2010 Census, in four of the five states with the biggest populations, more than 40 percent of unemployed people have been out of work for at least six months. On the flip side, the states with the shortest duration of unemployment are also among the least populous: North Dakota, South Dakota, Wyoming, Alaska.
EPI uses this data as strong evidence for the need to reinstate the Emergency Unemployment Compensation program. That would help, but the problem is so much more severe than that. And while the president trumpeted a new commitment from chief executives to give long-term unemployed workers a "fair shot at new jobs," I just don't see how that's going to change things in a significant way.
Before it's here, it's on the Bloomberg Terminal.
LEARN MORE