T-Mobile Lauded by Antitrust Chief Amid Sprint Pursuit
David McLaughlin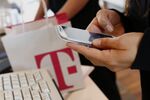 T-Mobile US Inc. has "spearheaded" increased competition in the wireless market after the U.S. blocked its takeover by AT&T Inc. in 2011, demonstrating the benefits of antitrust enforcement, a senior Justice Department official said.
T-Mobile is gaining customers by investing in its network, offering cheaper plans, and paying early-termination fees if subscribers switch to the company, Bill Baer, the head of the U.S. Justice Department's antitrust division, said.
"Competition in the wireless sector has flourished and consumers have benefited," Baer said in prepared remarks for a speech given yesterday in New York.
Baer's comments followed a meeting this month between Sprint Corp. executives and department officials about the company's potential acquisition of T-Mobile. Antitrust officials weren't convinced by Sprint's argument that a T-Mobile merger would promote more aggressive competition with larger rivals AT&T and Verizon Wireless, according to a person familiar with the matter.
SoftBank Corp., the majority owner of Overland Park, Kansas-based Sprint, is in direct talks with T-Mobile owner Deutsche Telekom AG to resolve obstacles to a potential deal, people with knowledge of the matter have said. A Sprint deal with T-Mobile would unite the third- and fourth-largest mobile-phone services in the U.S.
Sprint spokesman John Taylor and Anne Marshall, a spokeswoman for T-Mobile, declined to comment on Baer's remarks.
'Tough Talk'
Even though the Justice Department sees T-Mobile as a maverick company and will scrutinize any merger with Sprint, Baer's remarks shouldn't be seen as a final decision that the department will seek to block a deal, said Andre Barlow, an antitrust lawyer at in Washington.
"We've heard him say the same things before -- the tough talk in filing the complaint in the airlines deal and saying nothing short of injunction and then you have settlement," said Barlow, an attorney at Doyle, Barlow & Mazard.
When Baer sued in August to block the merger of American Airlines and US Airways Group Inc., he said the government wanted a "full-stop injunction" against the deal. A settlement was reached in November that required the carriers to give up takeoff and landing slots at Washington's Reagan National Airport and New York's LaGuardia Airport.
The Justice Department sued in August 2011 to block AT&T's proposed $39 billion purchase of T-Mobile, arguing that reducing the mobile market from four to three national firms would limit competition and lead to higher prices for consumers. The government credited T-Mobile, based in Bellevue, Washington, for keeping competitive pressure on rivals.
AT&T abandoned its bid less than four months after the Justice Department sued to block the deal.
"Merger litigation is costly and time consuming," Baer said in the speech. "But the last few years demonstrate that we will not hesitate to challenge in court anticompetitive transactions where that is the right course."
As part of his antitrust enforcement efforts, Baer is creating a new criminal enforcement group in Washington that will initially focus on bid-rigging in real estate foreclosure auctions and then broaden to include additional criminal investigations.
Auto Parts
The move comes as the division is investigating a sprawling price-fixing case involving auto parts, resulting in charges against 24 companies and $1.8 billion in criminal fines. It is also working with the department's criminal division to investigate manipulation in currency markets and the setting of benchmark interest rates.
"We remain concerned about fraud and manipulation of financial markets," Baer said.
In his speech, Baer warned merging companies that offering a "fig-leaf asset divestiture or an unworkable conduct remedy" won't be enough to avoid a challenge by the department.
"Experience, our past antitrust enforcement and our merger guidance should put companies on notice that this strategy is unlikely to succeed," he said. "Merging parties inevitably delay resolution of their matters by not seriously addressing our competitive concerns when proposing settlement terms."
Before it's here, it's on the Bloomberg Terminal.
LEARN MORE