business
This Year's Super Bowl Car Ads: The Good, the Bad, and the Downright Strange
By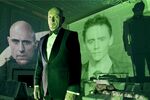 Give auto advertisers enough money, and they will give you Celine Dion driving "all niiiigggghhht" in a 2003 Chrysler Crossfire. The commercials teed up for this Sunday are no different: highly produced, star-studded car ads designed to capture the attention of more than 100 million viewers for at least 30 seconds, while the Puppy Bowl beckons with dewy eyes and penguin cheerleaders.
In the past few years, when the industry was still trying to steer around the fallout of the recession, many of the messages were grandiose and serious (see: Clint Eastwood's Chrysler spot, or Jeep enlisting Oprah to talk about homecoming soldiers). This year, with the momentum of a string of strong sales months, carmakers dialed down the self-awareness and had a little more fun.
My favorite so far, from the clever folks at Volkswagen, suggests that every time a VW hits 100,000 miles, a German engineer grows a pair of wings:
Funny? In a Teutonic way. Emotional hook? A dad and his daughter bond (sort of), and the theme evokes a Christmas classic. Overarching message? Volkswagens are reliable cars made by fussy engineers.
Kia Motors hired Laurence Fishburne to reprise his Matrix role in a commercial for its new top-end K900 sedan:
Clever? Indeed. Emotional hook? There's opera, spectacular special effects, and the suggestion of Matrix-style revelation. Overarching message? Kia is not messing around with this luxury strategy.
In support of its new tag line—"It's good to be bad"—Jaguar enlisted a number of British actors for a Bond-esque chase scene:
Clever? Yup. Emotional hook? No, but so many actors! Overarching message? Jaguar still has a strong British bloodline and an obsession with style and power.
Audi's effort may be the most original—and possibly the most memorable—but it's a stretch to tie the commercial's premise to cars:
Funny? Yes, and strange. Emotional hook? Oh, that poor dog. Overarching message? Don't compromise on choosing a dog—or a hybrid car.
Toyota Motor taps into the zeitgeist of the upcoming Muppets Most Wanted with a gaggle of little creatures and the tag line "We ain't got no room for boring":
Funny? In a Phil Dunphy way. Emotional hook? How much do you love the Muppets? Overarching message? This car is big—and fun!
Hyundai Motor hired comedian Richard Lewis and Big Bang Theory's Johnny Galecki to approximate a stoplight pickup attempt:
Funny? Sadly, no. Emotional hook? Not at all. Overarching message? The Elantra is charming, nonthreatening, and capable.
Chevy, meanwhile, is pitching its Silverado pickup as the kind of truck a cowboy would use to tow a stud bull to a field full of ostensibly receptive cows:
Clever? "Hello, ladies." Emotional hook? Hot Chocolate's You Sexy Thing is the soundtrack. Overarching message? The Silverado is tough enough for bull breeders.
Before it's here, it's on the Bloomberg Terminal.
LEARN MORE