pursuits
Sony Bets That Jazz Can Still Be Hip
The company is targeting the genre's aging, album-buying fans
By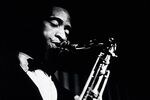 Tenor saxophonist Sonny Rollins will celebrate his 84th birthday this year. His cloudlike hair turned gray decades ago, but Rollins still blows with miraculous force. He recently demonstrated his staying power in another way: In January he signed a contract with Sony Music Entertainment's OKeh Records, one of the last major-label jazz imprints.
At a time when big record companies have all but given up on the genre, Sony has been assiduously signing jazz artists. Last year it resurrected OKeh, a dormant label known for recording historic sessions by Louis Armstrong and his Hot Five in the 1920s, as a jazz imprint within the Sony Masterworks division. This year OKeh plans to release as many as 20 albums. Wulf Müller, a veteran music industry executive in charge of signing artists to the label, hopes that one of those will be by Rollins , whom he personally courted. "He's still a fantastic artist, and he's still searching for the final kind of way to express himself, and he will never stop searching for that," says Müller.

People in the jazz world are watching OKeh with fascination and bewilderment. Bruce Boyd Raeburn, curator of the Hogan Jazz Archive at Tulane University in New Orleans, applauds Sony for rebooting OKeh and using it as a springboard for old and new artists. "They could pick any name they wanted to for a record label," he says. "But the fact that they selected OKeh sends a message: We're aware of the tradition, and we want to build on it."
Few genres have suffered more during the recording industry's meltdown than jazz. Sony's Columbia label, the longtime home of Miles Davis, is no longer signing jazz artists. Universal Music Group's Verve, the historic home of Ella Fitzgerald, is pushing smooth R&B singers such as Ruben Studdard of American Idol fame. Even Blue Note—perhaps the most prestigious jazz label of all—is hedging its bets, putting out records by country music singer Rosanne Cash along with those by hard-core jazz instrumentalists such as Wayne Shorter.
The industry pullback has been catastrophic for the genre. In 2003, Americans bought 23 million jazz albums, according to Nielsen SoundScan. They purchased only 5 million last year. "With those kinds of numbers, I don't think you can support the layers of overhead, infrastructure, and, frankly, bureaucracy at a major label," says Yulun Wang, co-owner of the independent jazz label Pi Recordings.
Nonetheless, Chuck Mitchell, senior vice president of Sony Masterworks, says the company sees jazz, along with classical music and Broadway musical soundtracks, as a category that appeals to older listeners who still buy music rather than hunting for ways to get it free on the Internet. Müller, a former top jazz division executive at PolyGram and Universal, who is based in Madrid, says he's targeting listeners who became enamored with the genre in their 20s, lost touch with it in their 30s and 40s, and want to reconnect with it in their 50s. "It probably has something to do with having kids," he says. "We haven't really analyzed it."
Müller says there are many such listeners outside the U.S. OKeh wants to appeal to them, he says, by releasing records by established American artists and by players whom he has signed from other countries, including Dhafer Youssef, a Tunisian musician who plays the oud, a stringed instrument that resembles a medieval lute, and Somi, a singer from Nigeria. Müller is also excited about Nir Felder, a 31-year-old Brooklyn-based guitarist, who released Golden Age, his first solo album, on OKeh in January. It's a mix of jazz and rock with an overlay of spoken word. "I think he could snap out of the core jazz fan base and reach a wider audience," Müller says. Sony likely wouldn't mind if OKeh did the same.
Before it's here, it's on the Bloomberg Terminal.
LEARN MORE