A Novel Insider-Trading Defense? Any Defense at All
By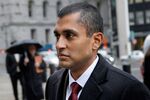 One thing that's been noted frequently by close watchers of former SAC Capital portfolio manager Mathew Martoma's insider-trading case has been his determination, from early in the investigation, to fight the charges against him.
One factor may be that Steven Cohen's SAC is paying Martoma's legal bills, as is company policy. Or, Martoma may genuinely believe that he is innocent. Whatever the explanation, it has translated into one of the more vigorous defenses presented in recent insider-trading history, with Martoma's lawyers offering more than a half-dozen witnesses to testify on his behalf. No one can say Martoma is going forth without a fight. What's unclear is whether any of it will help.
Martoma was charged in November 2012 with insider trading of two drug stocks, Elan and Wyeth, during the summer of 2008, realizing gains and avoided losses of $275 million for SAC. The heart of the case involves the allegation that Martoma persuaded Cohen to sell out of SAC's $700 million position in the stocks after Martoma received results of an Alzheimer's drug trial before they were made public. Cohen has not been charged, but SAC pleaded guilty to securities fraud in November. Cohen faces a separate SEC civil suit, which has yet to be resolved. If Martoma is convicted he could face a lengthy prison term, given the size of the alleged illegal gains.
His defense strategy seems to involve three things: the suggestion that the government's prime witnesses are unreliable and dishonest; that the information Martoma allegedly got from them was already public anyway; and that Cohen, a sort of shadow defendant in the case, sold his Elan and Wyeth shares for reasons other than what Martoma told him. Yesterday a parade of witnesses, including SAC general counsel Peter Nussbaum and Cohen's former research trader (and current SAC portfolio manager) Chandler Bocklage, took the stand and described the chaos of the markets in 2008 and the confusion surrounding the Elan and Wyeth trades in question. But the limitations on what they could say in a case of such tangled circumstances immediately became apparent.
"If a trade worked in your favor and you change your mind, it's time to sell it," a tense-looking Bocklage said while on the stand, in an attempt to explain how things are done at SAC.
"Could you describe Steven Cohen as a trader?" asked one of Martoma's defense lawyers, Roberto Braceras of Goodwin Procter.
"I personally think that Steve is the greatest trader of all time," Bocklage said.
"How would Steve trade around risk?" Braceras asked. The prosecutor, Arlo Devlin-Brown, objected.
The lawyers joined the judge in a huddle in the corner of the courtroom to discuss in whispers whether Braceras would be allowed to continue. Once again the specter of Cohen, whose mere mention before a jury is believed to inflame bias, asserted itself. The judge said no.
"General questions about how Steve Cohen conducted his trading, I think, are very dangerous—dangerous in the sense that they represent a risk of opening the door to a broader examination of how Steve Cohen did business," U.S. District Judge Paul Gardephe said. "And I think we all agree that that is not a path we want to go down."
The world will soon find out whether Martoma's strategy worked: The case is expected to go to the jury early next week.