MillerCoors Brews a Beer to Battle Spirits Makers
MillerCoors is rolling out a brew targeted at whiskey drinkers
By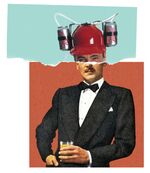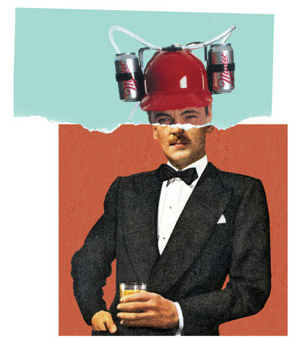 At MillerCoors headquarters in Chicago, brewmaster Manny Manuele pulls a black bottle of the company's newest beer from an icy bucket. He pops the cap with a showy reverence honed by countless tastings during a 35-year career. This time, rather than tilt the brew into a tall pint glass, he pours it into a stubby rocks glass usually reserved for whiskey. If MillerCoors has its way, bartenders across the U.S. will repeat Manuele's ritual after the company unveils the beer, Miller Fortune, over the next two months. With a malty, complex flavor hinting at bourbon, the amber brew will be distributed wider and faster than any beer MillerCoors has introduced since the Molson Coors Brewing and SABMiller venture was formed in 2008.
The rocks glasses bartenders will be encouraged to use are intended to set Miller Fortune apart the same way the orange slice has made Blue Moon one of the company's fastest-growing brews and its answer to craft beer's popularity. Miller Fortune is the most overt expression yet of the $30 billion beer industry's preoccupation with spirits makers that have relentlessly siphoned off young drinkers, taking 6 percentage points of U.S. market share from suds since 1999.
"We asked, 'How would Jack Daniel's or Maker's Mark do a beer and why?' " says David Kroll, who was recruited from appliance maker Dyson in 2012 to shake things up as MillerCoors's head of innovation. "We tortured every aspect to say, 'Are we falling back on what beer would do?' because this brand [Miller Fortune] is intended to play in a spirits occasion."
One obvious way to compete with liquor is to boost the alcohol content, in Fortune's case to 6.9 percent. That compares with 4 percent to 5 percent for most regular beers, while still less than crafts such as many India pale ales. The other way is taste. Fortune is a golden lager brewed in part with Cascade hops to give it a citrusy bite and caramel malt to impart an amber hue. Developed with guys aged 21 to 27 in mind, the flavor is moderately bitter with hints of sweetness, resting somewhere between a full-flavored craft beer and a light lager. The flavors emerge even more as the rocks glass warms in the hand, Manuele says. "They are going to hold a beer glass in a way they haven't held a beer glass before," he says.
Such innovation may not be enough. With younger generations increasingly preferring to tie one on with the likes of Bulleit Bourbon or Tito's Handmade Vodka, the $21 billion spirits industry now accounts for 34 percent of the alcohol beverage market, according to the Distilled Spirits Council of the United States, its primary trade group.
Laura Berkobin, 26, prefers vodka and water or Jameson Irish Whiskey neat during nights out with her friend, Jesse Wellner, a 36-year-old managing director for Atlanta-based TowerPoint Capital, who favors martinis or bourbon. "Beer is very filling," says Berkobin, who lives in Atlanta and recently accepted a job as marketing director for a finance company. "I get bloated, and it ruins my night."
Spirits have beaten beer with a relentless stream of new flavors, such as Jack Daniel's Tennessee Honey whiskey, while Miller Lite and Bud Light taste the same as they did decades ago, says Brian Yarbrough, an analyst with Edward Jones. While Yarbrough doubts Miller Fortune will close the gap, he applauds the effort. "They've got to try," he says. "If they just sit back and do nothing, they're going to continue to lose share, so they are trying to stem the bleeding."
SABMiller Chief Executive Officer Alan Clark says "it is very interesting and the right experiment. The fight back against spirits is going to be a long road."
Miller Fortune follows Anheuser-Busch InBev's introduction of Bud Light Platinum in 2012 and Budweiser Black Crown last year, both containing 6 percent alcohol. The beers, along with the company's Bud Light Lime "Ritas" line of flavored malt beverages, were developed in part to go after spirits drinkers, although less pointedly so than Fortune. Black Crown has helped stem overall Budweiser brand declines, AB InBev has said. Along with Platinum and Straw-Ber-Rita, it contributed to a 3.2 percent increase in the company's U.S. beer revenue in the third quarter, even as AB InBev's total market share declined by 0.8 percentage point, the brewer has said. The beers are sold at a 15 percent premium or higher. Miller Fortune also will sell at a 15 percent premium above Miller Lite, with a six-pack costing about $6.99 depending on the market.
Miller Fortune's homage to spirits may end with a rocks glass, but it starts with the bottle. During its 18-month development period, the brand's marketers shunned the traditional rounded beer bottle shape for a more angular design that resembles a Smirnoff vodka bottle. The marketers say it evokes a guy in a tapered, athletic-cut suit—designed to stand out among other bottles on a store shelf or crowded bar. "Let's be proud to be a beer, but if another beer is doing it, then let's not," says Ben Feeney, Fortune's brand manager. "If a spirit's doing it, let's consider it."
Feeney initially argued that the marketing benefit of the unique shape might not justify the additional costs and complexity of designing and manufacturing the bottle. He changed his mind after tests showed that bartenders and consumers overwhelmingly said the bottle's shape stood out in a crowd. The bottle is jet-black, achieved by heating the container a second time in an oven, with a black label accented with battleship gray. A bright red, scripted M for Miller provides a single splash of color.
Some MillerCoors executives questioned the black-on-black label, which almost disappears into the bottle, especially in a dark bar. Conventional beer marketing wisdom holds that bright, flashy labels are the way to catch attention. But innovation chief Kroll says "the lack of overt branding on this brand is the branding."
Television ads for the beer will feature an older, sophisticated, suited mentor known internally as "the motivator." He challenges one drinker to walk through a nightclub door marked "authorized access only" and tells another to sink a shot at pool to beat a woman rather than scratch on purpose. "Fortune always follows the bold," he says. MillerCoors certainly hopes so.