Is Ukraine's President Sick or Cracking Under Pressure?
By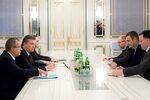 Tensions in Ukraine ratcheted up a few notches today as Russia threatened to suspend aid to Kiev, foreign investors dumped Ukrainian bonds, and the U.S. edged toward economic sanctions. And if that weren't enough, President Viktor Yanukovych disappeared from view, saying he was suffering from an "acute respiratory condition."
The abrupt sick leave is "very suspicious" and resembles an old Soviet-style maneuver "to shuffle people out of power," says Tim Ash, chief emerging-markets economist at Standard Bank in London. On the other hand, Yanukovych may simply be overwhelmed by a crisis that looks to be spinning out of control.
Russian President Vladimir Putin said on Wednesday that, until a new Ukrainian government is named, Russia would withhold the remaining $12 billion of a $15 billion bailout approved in December. Former Premier Mykola Azarov, a Yanukovych ally, quit on Tuesday following weeks of protest. Ukraine's cash reserves are desperately low—a situation made worse today as yields demanded by investors to hold its government bonds spiked to a six-week high.
Russia also appears to have tightened border controls with Ukraine as it waits to see whether a new government might shun a customs union with Russia in favor of closer ties with the European Union. "It is proving too much for President Yanukovych," Marc Chandler, head of currency strategy at Brown Brothers Harriman in New York, says in a note to clients today. "After seeing Putin's carrots, he felt the stick yesterday."
The regime in Kiev also faces pressure from Washington. The House Foreign Affairs Committee has approved a resolution supporting revocation of visas of some Ukraininian officials and calling for sanctions against those responsible for the use of force against protesters. "The U.S. is increasingly taking the lead on the West's reaction to Ukraine," Ash says. Canada, which has a large ethnic-Ukrainian population, could follow Washington's lead.
The EU, by contrast, appears divided on the issue. German Chancellor Angela Merkel has declined to endorse sanctions, while Polish Prime Minister Donald Tusk has said sanctions should be approached with "caution" but might become necessary.
Meanwhile, Yanukovych faces a stalemate with opposition leaders who have refused his offer to lead a new government. Opposition parties are angered by the government's refusal to grant amnesty to arrested protesters.
What's more, "there is little political benefit from accepting the position in the current difficult economic situation," analysts Dmitri Petrov and Peter Attard Montalto of Nomura International in London write in a note to clients. "It would mean taking on responsibility for the mistakes of the past without being able to conduct mending policy changes. That would inevitably damage the opposition's political ranking" ahead of scheduled 2015 presidential elections.
Opposition leaders aren't showing much sympathy for the president. "Yanukovych's illness does not free him of responsibility," the UDAR party headed by former boxing champion Vitaly Klitschko said on its website. "He can use the sick leave as an excuse not to sign the cancellation of the dictatorship laws, not to meet representatives of the opposition and international community, and to avoid approving urgent decisions."
Before it's here, it's on the Bloomberg Terminal.
LEARN MORE