Hedge Funds Hire for Europe Asset-Backed Selloff: Credit Markets
Alastair Marsh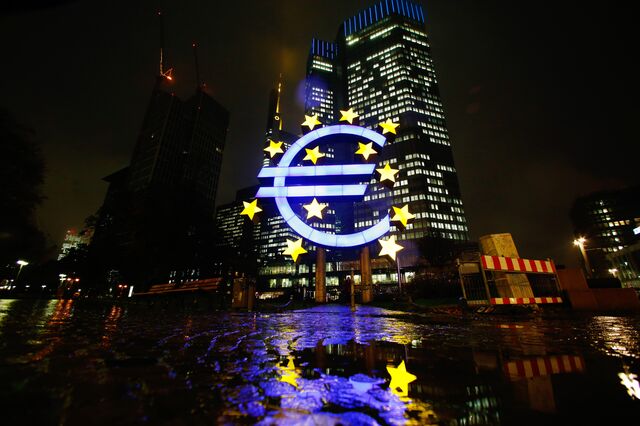 U.S. hedge funds are adding staff in London and relocating executives to profit from disposals of asset-backed securities and bad loans as European banks face new capital rules and stress tests.
Ellington Management Group LLC hired Daniel Turner from Chenavari Credit Partners LLP to head its ABS business after opening a London office two months ago and is looking to recruit three more people. New York-based MKP Capital Management LLC sent money manager Christopher Muller to the U.K. and hired Pritesh Solanki from HSBC Holdings Plc, while GoldenTree Asset Management LP transferred Cee Sarabi from New York.
"The big thing that engendered our push into Europe is that the volume of asset sales from European banks has finally picked up, and we expect that it will continue to increase," said Laurence Penn, a vice chairman of Ellington, a $5.6 billion firm founded by Michael Vranos in 1994. "Some people got into this trade a few years ago, but they were too early."
The funds are competing with private equity companies from Blackstone Group LP to Apollo Global Management LLC for discounted assets as banks seek to comply with tougher capital rules. European lenders have shrunk their balance sheets by 3.5 trillion euros ($4.8 trillion) since 2012 and will contract them by a further 1.8 trillion euros, according to Royal Bank of Scotland Group Plc data that include bundled debt.
Property loans
Old Greenwich, Connecticut-based Ellington wants to buy discounted property loans from banks, including those packaged into asset-backed bonds, Penn said. The firm initially targeted non-prime U.K. residential mortgage-backed securities as well as Spanish RMBS, and is now looking at securities including bonds backed by commercial property loans.
Lenders will offload 300 billion euros of distressed loans through 2018, more than double the about 125 billion euros they have sold since 2010, according to PricewaterhouseCoopers LLP. The European Central Bank's scrutiny of lenders' balance sheets is encouraging the sale of assets including Paris office blocks and German-financed chemical tankers.
Banks are getting from five cents to 40 cents on the euro for their bad loans, according to PwC. Spain's Banco de Sabadell SA said on Dec. 13 it sold 632 million euros of distressed debt for 41.2 million euros, or seven percent of face value.
'Risk Premium'
MKP, which oversees $8.5 billion, will invest in various parts of the European ABS market, according to Nilam Patel, partner and money manager at the firm in New York, who declined to provide further details on what his fund will invest in. The company opened an office in London in May 2011 and spent two years exploring opportunities before sending Muller to London in March last year, Patel said.
"We see European ABS as a way to broaden our sources of returns, and because there's greater risk premium and improving fundamentals, we believe it is an attractive opportunity," Patel said in a phone interview.
ECB President Mario Draghi said Jan 24. he sees signs of a "dramatic" improvement in the health of the euro-area economy. The bank forecasts the euro-area economy will grow 1.1 percent this year after an estimated contraction of 0.4 percent in 2013.
GoldenTree 'Opportunities'
New York-based GoldenTree, the $18 billion hedge fund specializing in corporate credit, sent Sarabi to London in September as its first money manager for structured products in Europe to get better access to the "attractive opportunities" in the European structured finance markets, the company said in an August statement.
Scott Sunshine, a spokesman for GoldenTree employed by Water & Wall Group, declined to comment on whether the hedge fund has hired extra staff in Europe to support Sarabi.
Marathon Asset Management LP, the $11 billion New York-based hedge fund run by Bruce Richards and Louis Hanover, started a second fund focused on distressed assets in Europe that will invest in mortgage-backed securities, non-performing loans and distressed corporate bonds, among other assets, according to a person with knowledge of the strategy.
The first Marathon fund for Europe, started in 2011 with $100 million in assets, returned 11 percent last year following a 22 percent increase in 2012, said the person, who asked not to be identified because the firm is private.
Apollo and Blackstone are among private equity companies competing for distressed assets in Europe. New York-based Blackstone invested or committed $3.3 billion for distressed European mortgages and properties in 2013, while Apollo, also based in New York, raised $5.4 billion to buy mainly non-performing loans in Europe, according to a Nov. 7 earnings statement.
Stress tests
The ECB is pressuring lenders to strengthen their balance sheets before it assumes financial supervision duties for the 18-nation euro area in November. The central bank is conducting a three-stage review into the health of the financial sector that will culminate in stress tests stimulating a range of crises later this year.
Policy makers also want to revive the new issue market for asset-backed securities to boost lending to businesses unable to access banks. Sales of the debt totaled 73.8 billion euros in 2013, compared with 325 billion euros in 2007, according to JPMorgan Chase & Co.
The lack of new supply is contributing to the attractiveness of the debt, according to Jason Walker, a money manager for European ABS at London-based hedge fund CQS U.K. LLP. The fund increased its exposure to the securities to 27 percent from 16 percent last year, with an initial focus on commercial property backed bonds and is now looking at residential mortgage notes.
"Improving fundamentals in Europe, where the recovery is clearly lagging the U.S., and positive technical factors given shrinking supply, are supportive of European ABS," Walker said.
Before it's here, it's on the Bloomberg Terminal.
LEARN MORE