The Apollo of Gaza: Hamas's Ancient Bronze Statue
Hamas and an archaeological find worth millions
By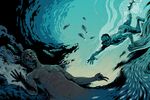 Wearing shorts and a mask, and armed with a net, Jouda Ghurab climbed down a portion of Gaza Strip beach made steep by years of pounding waves, and dove into the Mediterranean. By his telling, it was Aug. 16 of last year, a Friday just after Ramadan. Ghurab, a fisherman, is 26, and has a wife and two sons. He left school at 13 and has been fishing since he was 17. He seeks his catch close to shore, either in a rowboat or by swimming out to patches of submerged rock. When the weather permits, he earns 20 to 30 Israeli shekels ($5.70 to $8.60) a day catching and selling a mix of sardines, squid, and bigger fish such as the prized gilt-head sea bream. He has enormous muscular hands and wears a close-cropped, black beard.
Deir al-Balah, where Ghurab lives and fishes, is about 8 miles southwest of Gaza City, just 10 miles up the coast from Egypt. For a while Ghurab made money digging some of the smuggling tunnels under the Egyptian border and helped shuttle contraband—from washing machines to hives of Egyptian honeybees—but that money dried up when Egypt cracked down on trafficking.
That day in August, as Ghurab recalls it, he noticed the currents were behaving unusually and had exposed some rocks. "The rocks looked strange," he recalls. "The underwater waves had dug the sand and moved it out." He paddled toward the rocks, capturing six bream with his net. As he swam to the surface, he glanced behind him and saw a dark figure, about 4 to 5 meters down. It looked like a burned body.
He dove down to take a look and found a statue of a man, lying on its back. Its legs, facing south, were covered with sand. Ghurab wanted to dig it out, and quickly; it was noon and he didn't want to miss Friday prayers at the mosque. He also had valuable fish to bring ashore. Having no way to mark his underwater find, he took a visual reading of his location, swam the 100 meters to shore, and dumped his net. At that point, he says, "I stopped thinking about the fish."
Ghurab swam back to find the statue. But the sea is big. After an hour diving again and again, he located it as he began to tire. Ghurab used his hands to shovel away the sand that covered the statue's lower half and tried to use his own buoyancy to lift it, but it was too heavy. Again he had to abandon his find.
Back on shore, where midday prayers were over, he found six men to help, including his younger brother, whom he sent to get a friend's rowboat and some rope. They returned with a length of plastic clothesline and set out again for the statue. This time it took two hours to locate.
Ghurab dove down with the rope and tied it to the statue's neck. Using the boat, they managed to right the statue. They tied another line around its base and tried to lift it so they could tow it to shore. Instead, they nearly sank the boat. Finally, Ghurab and another diver were able to turn the statue, sliding it head over foot, and foot over head, spinning it along the sea bottom until it reached the beach. They finished around 4:30 p.m., almost five hours after Ghurab had discovered the prize. It took six of them to lift the bronze onto a donkey cart. They took it to a nearby cluster of buildings Ghurab shares with other family members. Among the structures is a hut with a sand floor, a roof of palm fronds, and a wall made from a plastic banner picturing Sheikh Ahmed Yassin, the spiritual leader of Hamas, whom Israel assassinated using Hellfire missiles in 2004. The men placed the statue on the floor of a house in the compound, unaware they had discovered what might be the most valuable archaeological find of the century. Soon, though, things would get very complicated. After all, it is Gaza.

The Apollo of Gaza is almost six feet tall and made of bronze. He has finely wrought curly hair, one intact inlaid eye, an outstretched right hand, and a green patina over most of his body, which weighs about 1,000 pounds. His slim limbs are those of a teenager, and he's so unusually well preserved that his feet are still attached to the rectangular bronze base that kept him upright centuries ago. On the international market, bronzes have become the rarest and most disputed artifacts of antiquity. Few survive today; over the past 2,000 years most have fallen victim to recycling: melted in antiquity for weapons or coins and later for church bells and cannon. The survivors are mostly those saved by mishaps or disasters—sinking in shipwrecks or buried by volcanic ash.
A find like the Gaza bronze does not happen often. In 1996 a recreational diver in Croatia discovered a heavily encrusted bronze statue of an athlete, which the government restored and sent on an international museum tour. In 1972 a snorkeler off Italy's Calabria region found the Riace Warriors, a pair of bronzes later honored with a postage stamp and brought to life as animated stars in tourism advertisements.
In 1964, Italian fishermen in the northern Adriatic Sea snagged a bronze of a young man in their nets, brought it ashore, and secretly sold it. The statue, which is missing its feet, was smuggled from Italy and bought in 1977 by the J. Paul Getty Museum for almost $4 million, according to Chasing Aphrodite: The Hunt for Looted Antiquities at the World's Richest Museum by Jason Felch and Ralph Frammolino. Under pressure from Italy, the Getty agreed in 2007 to return some disputed artifacts; the bronze was the only one among 41 demanded that the museum didn't give back. Italy's top court is now weighing whether to order a return of the statue, which occupies its own climate-controlled room in the newly restored Getty Villa in Malibu.
"A bronze of this size is one of a kind," says Giacomo Medici, a dealer whose 2004 conviction in Rome for acting as a hub of the global antiquities trade led to the repatriation of works from the world's biggest museums and richest collectors, including the Getty and New York's Metropolitan Museum of Art. If the Apollo could be sold, such a statue would bring "20, 30, 40 million euros, maybe more, 100 million for the highest quality," Medici says, speaking by phone from house arrest at his villa north of the Italian capital. "You could make it a centerpiece of a museum or private collection."

By way of comparison, an ancient bronze a little more than half the Apollo's size, depicting the goddess Artemis with a stag, sold for $28.6 million at Sotheby's in New York in 2007. "That's a good guide" for understanding the value of the Gaza bronze, says James Ede, chairman of London-based antiquities dealer Charles Ede. "Of course, it's worth a lot of money if it can be sold, but it can't be," he says. A thicket of issues surrounding the Apollo's provenance and ownership will make it hard to establish legal title, he says. It doesn't help that Gaza is governed by Hamas, the Islamist movement considered a terrorist organization by the U.S. and the European Union. Says Ede, "It would be a hell of a furor if they tried to sell it."
The Gaza Strip, south of Tel Aviv, is a coastal Palestinian territory a little more than twice the size of Washington, D.C. It's bounded on one side by 25 miles of Mediterranean beach, on another by a southern boundary with Egypt, and the rest by an Israeli barrier. Smuggling the statue would mean getting through or under the heavily armed borders controlled by Israel and Egypt. The other route, by sea, is policed by Israeli naval patrols that enforce a six-mile limit for Gaza fishing boats by firing warning shots.
Further limiting options for the Apollo was Hamas's grip on Gaza. Hamas seized power in 2007 through a bloody takeover from the Palestinian Authority, based on the other side of Israel in the landlocked West Bank, and set up its own government. Any purchase of the bronze from Hamas by a U.S. or European museum or collector would risk violating sanctions against financing terrorism. Hamas's fundamentalist roots also mean that if the Apollo stays in Gaza, odds are slim he'll become a tourist draw. The group's Islamic leaders shun nude human images, and the bronze is unclothed and anatomically complete. Says Thomas Bauzou, a professor of ancient history at France's Université d'Orléans who does archaeological research in Gaza: "From the Islamic point of view, it is an idol and an impudicity."
 
 
Once the statue arrived at Ghurab's family compound, the affair quickly spun out of his control. "I thought it was gold," he says, an impression heightened by a patch of yellow on its right leg. He got in touch with a cousin who's a jeweler. Within a few hours, at least one other jeweler showed up. By some accounts of what happened next, someone severed one of the statue's fingers in an attempt to identify the metal and to find a buyer. Ghurab says three fingers were already broken when he found the statue, and his brother accidentally broke the left thumb. He doesn't know of any intentional damage.
The crowd at the house grew as other family members also arrived, including some belonging to Hamas's militant wing, the Al-Qassam Brigades, Ghurab says. The brigades, which are known for their suicide bombings in Israel, are composed of a network of secret cells. They operate with some autonomy from the Hamas political movement, which runs Gaza. The Apollo wouldn't even spend the night at the house. The cousins from the brigades arrived with a small truck, outfitted with a mattress in the back. They heaved the bronze in and drove off. In the day's chaos, Ghurab says he didn't even think of taking a photograph of his find. He'd even missed his chance to sell the six fish, which his wife grilled and served to the family instead. Now he just hoped his cousins could sell the statue and give him a cut.
The cousins, meanwhile, drove the statue north, through Gaza City and to the town of Beit Lahia, where they stored it in another house under the brigades' protection, Ghurab says. Efforts to profit from the bronze then foundered. "We are living in a blockade, and it's hard to sell it outside Gaza," Ghurab says. The brigades' information office in Gaza didn't respond to e-mailed requests for comment.
If the fisherman's militant cousins had to sell the bronze locally, there was one obvious buyer: Jawdat Khoudary, an antiquities collector who makes his money in construction and is consumed with documenting and preserving Gaza's ancient cultural heritage. Khoudary, 53, owns a hotel on the beach in northern Gaza City called Al-Mathaf, or the Museum, for the lobby gallery that displays part of his private collection. In 2012 he published a 203-page color catalog of his treasures, Gaza From Sand and Sea, with entries for each object written by academics from universities in Europe and the Middle East. It's optimistically subtitled "Vol. 1," in part because dealers and scavengers arrive at Al-Mathaf to offer Khoudary a steady supply of new finds, none of which is the fruit of a documented, scientific dig.
So it was no surprise in September when a contact of Khoudary's, acting as an intermediary for the fisherman's cousins, arrived with a mobile-phone video. "I was shocked," he says. "I've never seen a statue as big as this in Gaza, beautiful and complete." He immediately assumed it was Greek or Roman, and archaeologists who have seen photographs agree.
Khoudary says that as he watched the video of the Apollo, he decided there was no way he could privately own such an important piece of Gaza's history. "It's not a collectible like a coin," he says. "Any thought of selling it is madness." Instead, he had to save it. In an effort to keep the bronze off the international black market, he alerted officials from the Hamas government.

The Hamas government police, a force separate from the Al-Qassam Brigades, then dispatched men to find the statue. It was a little more than a month after the original discovery when three police jeeps pulled up to the house in Beit Lahia where the bronze was being held, Ghurab says. Both the police and the militants were armed, leading to an intra-Hamas standoff. An elder cousin of Ghurab's defused the scene by demanding the police come back with higher ranking officials. Officers did arrive and negotiations began. The cousins' position on the statue was, "It is owned by our family and we are going to sell it outside Gaza," Ghurab says. Alternately, if they surrendered it as state property, they wanted a reward. Ghurab says he doesn't know what agreement was reached, but the talks culminated with the Apollo departing with the Hamas police.
At the same time, Khoudary decided that keeping the statue off the black market was only half the challenge. To help conserve it, he activated an informal network of art lovers to assist Gaza authorities, including curators and a Roman Catholic friar. "My biggest worry is it needs immediate restoration," Khoudary says, especially since the bronze has gone through the shock of encountering 21st century air for the first time. "There's a chemical reaction, and we have to stop it."
Bauzou at the Université d'Orléans was one of the experts Khoudary called. The French archaeologist corresponded with the Gaza Ministry of Tourism and Antiquities, using photographs to assess the bronze. "This statue is a major discovery," he wrote in a Sept. 23 letter in which he expressed alarm over the work's conservation. "I do not like the light green spots visible on the pictures … it is an emergency!" He said specialists in metal preservation and restoration needed to be called in at once to decide how to proceed. The transition from the dark color seen by the fisherman to the new green hue might be a sign of a type of corrosion akin to a grave dermatological condition. The reason the Getty's bronze has its own room in Malibu with cool temperatures and low humidity is to prevent such irreversible damage. "Without these conditions, the metal would rapidly deteriorate and succumb to what conservators call 'bronze disease,' " says Julie Jaskol, a spokeswoman for the Getty, whose specialists declined to comment on the Gaza bronze.
Bauzou concluded from his research that the statue dated from between the 5th century B.C. and 2nd century A.D. "The Apollo of Gaza is exceptional because it is the only classical Greek bronze life-size statue found in the whole Middle East," he wrote in another report, dated Oct. 4.
In the hands of the Hamas government, the bronze is worth more than just money. The most valuable reward would be recognition of any kind by U.S. or European institutions and governments. Even the slightest cooperation, say, over restoration, sale, or loan of the statue, could open the diplomatic door a crack. "This case is fiendishly difficult," says Sam Hardy, a British archaeologist whose Conflict Antiquities website tracks the use of looted artifacts to fund war. "National and international laws make it difficult to assist the administration in the West Bank, let alone that in the Gaza Strip. Indeed, any sale or leasing of the statue might normalize looting of antiquities as a funding stream for Hamas."
Yet there are already signs the bronze is enabling a thaw of Hamas's isolation through the impromptu working group of European archaeologists and cultural officials from the Hamas government that Khoudary helped assemble. Hamas officials, eager to show such links, provided Bloomberg Businessweek a copy of correspondence and described those contacts. In Paris, specialists at the Louvre Museum have researched the statue and given conservation advice, according to a copy of one of their memos and interviews with participants in the consultations.
The Louvre expressed interest in restoring the Apollo and publishing a description and analysis of it, says Jean-Baptiste Humbert, the French Dominican cleric and archaeologist with whom Khoudary has been in touch about the bronze. Humbert, head of the archaeology department at the École Biblique et Archéologique Française in Jerusalem, says he made contacts "with the top" officials at the Louvre regarding the bronze. Asked for comment, the French government museum didn't deny that account. In a statement, the museum said it has developed ties with specialists in the Middle East over two centuries. "In this context, the Louvre is induced to be in contact or interact with different institutional and scientific partners in the region," the statement said. The Louvre said it hasn't officially engaged with the Gaza bronze, and that any attempt to do so would be in conjunction with the French foreign ministry. The reason the museum is being so cautious, Humbert says, is because of the statue's sketchy provenance. "The Louvre does not want to be officially involved in that affair, as long the statue's origin is not clear," he says.
Neither Humbert nor Bauzou believes Ghurab discovered the bronze underwater. "It does not come from the sea. It's obvious," Bauzou says. The giveaway, they say, is the lack of any sea encrustation or damage from hundreds of years underwater. Instead, they suspect the bronze came from a clandestine excavation somewhere on land. "This story has been fabricated to hide the real place where the statue was found so they can continue digging."
In the antiquities racket, which is riddled with scams and fakes, crazier things have happened. In this case, if it turned out the bronze came from, say, a pilfered temple complex, it would be much more toxic for museums than a chance underwater find.
 
 
Once it had the statue, the Hamas government formed a committee to study it. An employee of the Gaza government's antiquities department took photos of the statue lying on a layer of bedsheets decorated with blue-skinned Smurfs over what appears to be a child's foam mattress. In October, Italian newspaper La Repubblica published a story on the bronze that said it may be worth from $20 million to $40 million. It quoted Hamdan Taha, a Palestinian Authority minister in the West Bank who deals with culture, encouraging the dissemination of the Smurf photos to burn any chances for sale on the antiquities underground: "Let its images circulate, so that nobody can say, 'I didn't know where it came from.' "
The pictures even briefly showed up in a listing for the statue on EBay: starting bid, $500,000. Shipping was listed as "Free Local Pickup" in Gaza—which was either optimistic, a joke, or a scam to get someone to pay a deposit.
It's possible the fisherman's story is an elaborate hoax. It is true the Apollo isn't encrusted with barnacles, but not all submerged bronzes get crusty. Photos of the 1996 Croatian find and the 1964 Getty bronze show thick layers of sea growth, but the Riace bronzes from 1972 appear to have come ashore with skin as smooth as that of the Gaza bronze. It might be no coincidence they were found under similar conditions: in shallow water, partly buried in sand, by a swimmer.
In the Gaza case, which lacks any apparent shipwreck remains, the steep, eroded shoreline is a clue that the bronze may have only recently been exposed to the sea. For millennia the Nile River spewed silt into the Mediterranean, replenishing beaches until the last century, when construction of the Aswan High Dam interrupted the flow, says Ross Voss, a Jerusalem-based archaeologist who has helped run Harvard University's excavations at Ashkelon, the ancient seaport up the coast from Gaza. Now the waves are eating into the shore's sandstone, exposing areas that in antiquity contained temples overlooking the water, he says. "The sea has encroached enough that they've hit remains of ruins."
There's no doubt the statue came from the sea, Khoudary says. Sitting in the lobby of his hotel on a December evening, he wraps his portly frame in a wool robe and warms his neck with a black-and-white keffiyeh, the emblem of late Palestinian leader Yasser Arafat. In his left hand he works a silver coin purchased minutes earlier from two beachcombing treasure hunters. One side of the coin, encrusted with black sand, bears the outline of a face. Khoudary says it's Alexander the Great, who conquered Gaza in 332 B.C. en route to taking Egypt.
Khoudary lays out his grim reasoning as the lights go off and on, a result of Gaza's fuel shortage. "I know how they excavate in Gaza, it's by shoveling," he says, making the motions of a mechanical backhoe with his hand. In his collection's catalog, an entry for clay wine jars even lists "bulldozer trenches" as the method of discovery. Clandestine hunters usually dig until they hit something, a process that's speedy but damages the finds. In the case of the bronze, however, "It's not damaged," he says. "It's 100 percent from the sea."
Officially, that determination will be made by Hamas. "Our investigations are still going on," says Muhammad Ismael Khillah, assistant undersecretary at the Gaza Ministry of Tourism and Antiquities. His office, in a concrete building in central Gaza City, is decorated with a poster of the Dome of the Rock, one of Islam's holiest sites, and a chart of different types of fruits and nuts, with the names printed in Hebrew. What appears to be a courtyard outside is actually a portion of the building destroyed in an Israeli air raid. Once the Interior Ministry completes its probe, Khillah says he hopes to strike a deal outside of Gaza to restore and display the bronze. Along with the Louvre, whose contacts have been "indirect," a U.S. museum has gotten in touch, he says. (Of course, any Hamas deal with an American institution risks running afoul of sanctions if not done with permission from the U.S. government.)
One arrangement Khillah floats is lending out the Apollo to a foreign museum for money. "We are keeping the door open to cooperation with any government," he says. He also doesn't rule out a public exhibition at home in Gaza, making accommodations for its nudity, of course. "We will have to cover it in certain places," he says. In the meantime, almost nobody can set eyes on the bronze, which is being held at a secret location. Khillah will reveal only a few details: The Apollo is in a Hamas Interior Ministry office, somewhere in Gaza, being kept away from sources of humidity, he says. It is propped up in a corner.