A Super Bowl Spotlight for GoldieBlox
by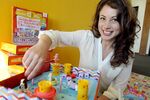 Most startups live and die without ever getting a whiff of the publicity it takes to build a national brand. GoldieBlox, a two-year-old company that makes toys designed to foster girls' interest in engineering, is about to grab the spotlight for the second time in three months.
At the end of last year, GoldieBlox made headlines trading lawsuits with the Beastie Boys after the startup parodied the rap group's 1987 song Girls in an online video viewed by millions. On Sunday, the Oakland (Calif.)-based company will reach an even larger audience when it airs a commercial during the third quarter of the Super Bowl.
The latest brush with national attention is courtesy of an online contest launched by Intuit, the company that makes TurboTax and QuickBooks accounting software that's used by millions of businesses. Last summer, 15,000 small businesses signed up to compete for the kind of publicity most could only dream of: a professionally produced ad and 30 seconds of airtime during the Super Bowl, worth an estimated $4 million.
Teasers for the ad released online on Jan. 30 show a pack of girls running through a forest and tossing stuffed animals in the air, presumably ditching their "girly" playthings for GoldieBlox products. "It's amazing that 100 million people are going to see this message about empowering girls," says Debbie Sterling, the company's founder. "It's a huge win for our social mission."
It should also be a big win for the company's bottom line. "When I came up with the idea to reduce the gender gap in engineering through toys and play, the reaction I got was that it was very niche and would never go mainstream," Sterling says. Brendan Boyle, a partner at design firm IDEO and an early adviser to Sterling, joked that what GoldieBlox needed was a Super Bowl ad to catapult the idea into the national consciousness the way Apple's famous 1984 spot helped popularize the personal computer.
GoldieBlox's record of recruiting supporters—it raised $285,000 in a 2012 Kickstarter campaign—made it a natural fit for Intuit's battle of the bands-style contest that rewarded companies for drumming up support from fans. (That led to some guffaws when the pro-marijuana advocacy group Norml led early voting) Intuit used the popular vote, among other criteria, to narrow the field to 20, then let its own employees select four finalists. The runners-up all had agricultural themes: a North Carolina company that makes dog treats out of recycled barley from a local brewery, a Minnesota chicken farmer, and an Idaho company called POOP that sells "natural dairy compost."
The contest opened voting to the general public again in November, before GoldieBlox filed a preemptive suit against the Beastie Boys, sparking the legal battle. Coverage of that kerfuffle seemed to seesaw between support for GoldieBlox's noble mission and criticism that the company had ripped off a beloved band. An attorney for the Beastie Boys says the litigation is still pending.
In either case, the attention didn't seem to hurt. In December, Intuit sent a fake television crew to interview Sterling at GoldieBlox's offices to have cameras on hand when Chief Executive Officer Brad Smith surprised Sterling with the news. "We were in tears, Brad was in tears," Sterling says.
Now Sterling and Smith are probably smiling. Dan Wernikoff, who heads the small business group at Intuit, says that the Super Bowl campaign isn't intended to sell products but to build "positive sentiment around our brand." Intuit says small business owners got $25 million worth of value from the campaign, with smaller scale media campaigns for the other finalists and discounted QuickBooks packages for all 15,000 contestants.
The campaign let Intuit turn the Super Bowl—a bonanza of consumer marketing for cars, beer, and chips—into a months-long business-to-business campaign that may do more for its business than 30 seconds directly advertising QuickBooks would. For its expense, Intuit got 7 million page views on its contest page, and millions of people voted, according to spokeswoman Jen Garcia. The company will also get its logo at the end of the GoldieBlox commercial.
GoldieBlox, meanwhile, gets to tell its story without angst over allegations of copyright infringement. "It was disappointing to see how much focus was placed on the legal battle and the controversy—and not on what we're doing," says Sterling. She's contracted with a second factory to handle additional orders. As for what the new ad will be like, Sterling says it will be more polished than her Beasties-tracked video, which featured a group of girls setting off a Rube Goldberg contraption. "It will be similar in the sense that it speaks to what we're all about: empowering girls," she says.
Before it's here, it's on the Bloomberg Terminal.
LEARN MORE