Ford Plans 15% Boost of F-Series Super Duty Plant Output
Craig Trudell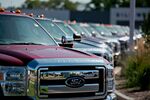 Ford Motor Co., the maker of the top-selling pickups in the U.S. for the last 37 years, said it plans to increase production by 15 percent at one of its factories building F-Series Super Duty trucks.
Ford will boost annual capacity by about 55,000 vehicles at its Kentucky truck plant starting April 1, Joe Hinrichs, president of the Americas, said today in an interview from the factory. The Dearborn, Michigan-based company said it will invest $80 million and add 350 jobs.
"The demand for our F-Series trucks continues to grow" and shows the "underlying the strength of the economy," Hinrichs said today on Bloomberg Television.
Ford, the second-largest U.S. automaker, said in December that it plans to add 5,000 jobs in its home country this year to maintain momentum after an industry-leading market share gain in 2013. Chief Operating Officer Mark Fields said this week that the company will take six actions with North American plants in 2014 to meet rising demand.
Ford slipped 0.1 percent to $15.25 at the close in New York. The stock advanced 19 percent last year, compared with a 30 percent gain for the Standard & Poor's 500 Index.
Inclement weather in the midwest, east and southeast regions of the U.S. is affecting sales this month and causing some disruptions in production, Hinrichs said in the interview. Thousands of Atlanta-area residents were stranded in cars on highways around the city this week after a snow and ice storm crippled the ninth-largest U.S. metropolitan area.
Parts Disruptions
"Getting parts out of the Southeast the last 24 hours has been a challenge, to be sure," Hinrichs said. "We've had a little bit of waiting for parts, so we have a little down time, or we maybe cut a shift an hour or two early because of parts."
Hinrichs declined to name specific plants where production has slowed or to provide a forecast of Ford's U.S. sales for the month.
F-Series demand drove Ford's $8.78 billion pretax profit in North America last year. The results will lead to the company paying about $8,800 in profit sharing to each of its about 47,000 eligible U.S. hourly employees represented by the United Auto Workers. That record payout occurs in March and compares with checks of about $8,300 per worker last year.
"Our dealers had record profits, our employees are getting record profit sharing, our business had record profits in North America last year -- everybody's winning," Hinrichs said today on Bloomberg TV. "We want to keep this formula going in the future."
Before it's here, it's on the Bloomberg Terminal.
LEARN MORE