Persian Gulf Aid Can't Fix Egypt
Subsidies keep energy and bread cheap—and the budget deficit high
Sarah A. Topol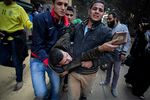 On the third anniversary of Egypt's uprising against the 29-year reign of Hosni Mubarak, police killed 49 antigovernment protesters and Islamic militants shot down a military helicopter in the Sinai with a shoulder-launched surface-to-air missile. Five soldiers died.
Political instability and a low-level insurgency against state security forces have become the norm in Egypt. Even so, the economy has staged a modest comeback since the army ousted the elected government of the Muslim Brotherhood, which had succeeded Mubarak. The World Bank predicts Egypt's economy will grow about 2.3 percent in 2014, up from 1.8 percent in 2013. On Jan. 3, Fitch Ratings upgraded its rating on the government's debt to stable for the first time since anti-Mubarak protesters jammed Tahrir Square in 2011.
Such gains mask massive problems. After the Arab Spring, tourists and investors stayed away. The currency plummeted and inflation rose, while the budget deficit climbed. Foreign reserves fell to less than half of the $36 billion the old regime had held.

Fiscal stability relies for now on pledges of $15 billion in grants, fuel aid, and potential infrastructure investments from Kuwait, Saudi Arabia, and the United Arab Emirates. Such help won't reduce Egypt's bloated government bureaucracy. Nor will it cut subsidies—keeping prices low on everything from gasoline to cooking oil—which cost Egypt $28.5 billion a year. Energy subsidies alone equal $14.5 billion.
The budget deficit is 14 percent of the country's gross domestic product. Official unemployment stood at 13.4 percent in November, though most analysts agree it's much higher. Half the population is younger than 25, and the economy is growing too slowly to give them jobs.
Negotiations over a possible $4.8 billion loan from the International Monetary Fund appear to have been shelved. The talks hinged on the understanding that Egypt would restrict its subsidies to those poor enough to need them. That's a daunting political prospect in a country where the average household spends about 40 percent of its money on food and everyone relies on cheap subsidized energy. In 1977 President Anwar Sadat faced widespread riots when he raised the price of bread.
On Jan. 27 the army endorsed a possible presidential run by Field Marshal Abdelfatah Al-Seesi. The chances that he'll tackle structural reform are slim. "These are the kinds of difficult economic decisions that generally require a real broad-based political consensus," says Michael Wahid Hana, senior fellow at the Century Foundation in New York. "That's obviously nowhere near coming to fruition at the moment."
BOTTOM LINE -
The bottom line: Egypt is depending on grants of $15 billion from the Persian Gulf states to stimulate and stabilize its economy.
Before it's here, it's on the Bloomberg Terminal.
LEARN MORE