Crazy Prices Spawn 'Surreal' Currency as Rio Residents Flip
David Biller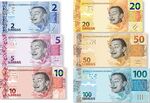 Making its rounds on social media is a mock change to Brazil's real: Salvador Dali's face emblazoned on the currency and renamed the "surreal."
It started with a joke published in Rio de Janeiro's biggest daily O Globo that the city needed its own bills. Having read that, Andrea Cals, 48, bemoaned the cost of a ham and cheese melt in a Facebook post and called for a boycott of high prices. She and two friends created the "Rio $urreal" Facebook page that, 24 hours after launch, had garnered tens of thousands of fans.
Rio's price increases have exceeded national inflation for each of the past four years, averaging 6.6 percent versus 6 percent. Sticker shock over everyday items has prompted protests that have spread to other cities, including bring-your-own-beer revelry outside bars. As Brazil prepares for presidential elections in October, memories are fresh of massive demonstrations last year sparked by rising bus fares.
"We can't just act like typical Brazilians and agree something is wrong, make a joke, then swallow it," Cals, a television editor and host, said by telephone. "We have to stop this, because it's getting serious. It's no joke when I'm spending much more than I earn."
'People's Reality'
The Facebook page tapped into the indignation of a population used to beachgoing and dining out, and which lately has found itself priced out by vendors maximizing profits ahead of the soccer World Cup Brazil will host this year, Cals said. The page provided a forum to air grievances and post receipts indicating gouging, from a 43-real ($17.80) green salad to a coconut for 7.5 reais.
Price increases in Rio threaten the city's outgoing lifestyle, according to Patricia Kalil, the 35-year-old Rio resident who photo-shopped the Dali 'surreais.' Brazil's consumer confidence in January fell to its lowest level in 4 1/2 years, according to the Getulio Vargas Foundation.
"I've never heard my friends complain so much that things are going badly," Kalil, who runs a communications firm for art galleries, said by phone. "It's fine if you have a good salary, no kids, don't pay rent, and don't have debt. But that's not most people's reality."
Rio $urreal's creation was followed by a boycott of rented chairs and umbrellas on beaches like Copacabana, where local radio station CBN last week found tourists pay 67 percent more than locals for those items. A vendor along the road leading to the Christ the Redeemer statue last weekend sold a car full of visitors coconuts from a Styrofoam cooler at 5 reais apiece. Two years ago, his price was 1 real.
'Little Coolers'
Local $urreal pages have reached Sao Paulo, Belo Horizonte, Brasilia and other cities, facilitated by Facebook's proliferation. In August 2013, Brazil's Facebook users were forecast to reach 61 million by year-end, the third-most of all nations following the U.S. and India and about 30 percent of the population, according to New York-based research firm eMarketer.
The same was true for 28-year-old Guilherme Tomaz's "Little Cooler": an event he organized on Facebook for a few friends to drink store-bought beer outside bars Jan. 23 "without having to sell a kidney." He was surprised when more than 70 people showed, and surprised yet again when copycat events cropped up as far away as the Amazon city of Manaus.
"Everything in Rio is expensive and you drink a little beer to forget that, but even the little beer is expensive!" Tomaz said by phone. "The more Little Coolers there are, the better. It shows dissatisfaction with prices that are surreal, and almost speculative. They charge what people can pay."
At least five more cooler parties have been scheduled in Rio this week, with more than 3,000 people RSVP'd for the largest.
'Free Coconuts'
Coconuts have been a particular target for grumbling. They are trucked in from a neighboring state and wholesale for about half the 5-real sale price, which doesn't leave much profit after the daily 175 reais of ice to keep them cool, according to Napoleao Fernandes, 63, who mans a kiosk with a view of the sun setting over Ipanema beach. Anyway, prices for everything have gone up, from beans to electricity, he said.
"Coconuts are free, you just have to climb that tree over there and scrape up your chest," Fernandes said. "But no one does it. Everyone wants them cold."
Inflated prices of coconuts and other goods are a symptom people are able and willing to shell out, according to Carlos Thadeu de Freitas, chief economist at the Rio-based National Confederation of Commerce in Goods, Services and Tourism. In the same way, trips abroad jumped last year even as the real lost 13 percent against the U.S. dollar, he said.
'Salary Gains'
"Obviously prices are high, abusive, but people buy," said de Freitas. "That's because they still can. People had a lot of real salary gains in recent years."
Average monthly real income in Brazil was 1,967 reais in December, up 36 percent from a decade earlier, according to the national statistics institute. Unemployment in December fell to a record-low 4.3 percent, the institute said today.
Inflation last year was 5.91 percent, above the government's 4.5 percent target. Disapproval of Dilma Rousseff's inflation policy is at 63 percent, according to an Ibope poll of 2,002 people conducted between Nov. 23 and Dec. 2. That's down from 68 percent in September following nationwide protests that drove her popularity to a record low.
Bus Fares
The protests were set off by cities increasing bus fares, and mushroomed to include a host of issues including government spending and inadequate public services. Rio's mayoral office announced an increase in bus fares today, to 3 reais from 2.75 reais, that will take effect on Feb. 8, according to the city's official gazette. A protest organized on Facebook has already been set for Feb. 6.
In Rio, rent prices have risen 133 percent since the start of 2008, according the FIPE Zap index. The cost of dining out in the city rose 9.8 percent in 2013, including a 12.2 percent leap in the price of beer and an 11 percent jump for other alcoholic beverages, like the caipirinha.
"When prices are high, it's in consumers' hands to say no to the supermarket that doubles the prices, say no to person tending market stalls, say no to the coconut vendor," Kalil said. "In that way we'll show we can control prices."
Before it's here, it's on the Bloomberg Terminal.
LEARN MORE