Consumer Confidence in U.S. Dropped Last Week to Two-Month Low
Katherine Peralta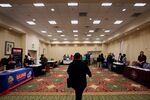 Consumer confidence fell last week to the lowest level in more than two months as views on the economy, personal finances and buying climate worsened.
The Bloomberg Consumer Comfort Index declined to minus 33.1 in the week ended Feb. 2, the lowest since late November, from minus 31.8 the prior period. The share of Americans saying it's a good time to shop fell to the lowest since early November.
The biggest setback in stock prices since June has shaken investors, sending sentiment for top-income earners to the lowest level in almost a year. Wage gains that have shown no sign of strengthening provide no solace to those at the other end of the pay scale, raising the risk that spending will pull back following its strongest quarterly performance since 2010.
"The recent stream of dreary data likely reflects a slowing economy rather than just a nasty winter," said Joe Brusuelas, a senior economist for Bloomberg LP in New York. "The decline in the buying climate likely reflects the soggy wage environment that continues to prevail despite modest gains in employment."
Other reports today showed claims for jobless benefits dropped last week, the trade deficit widened in December as exports ended a record year on a soft note and worker productivity climbed in the fourth quarter.
Applications for unemployment insurance payments dropped by 20,000 to 331,000 in the period ended Feb. 1, according to Labor Department data, indicating employers are retaining workers to meet demand.
2013 Gap
The trade gap expanded 12 percent to $38.7 billion, reflecting a broad-based decline in exports after they surged in November to the highest ever.
A measure of employee output per hour increased at a 3.2 percent annualized rate from October through December, after a revised 3.6 percent gain in the prior three months that was larger than initially reported, another Labor Department report showed. The median forecast in a Bloomberg survey of economists called for a 2.8 percent advance in the fourth quarter. Expenses per worker decreased at a 1.6 percent pace, more than estimated.
Stocks rose, with equities trimming a weekly loss, as investors weighed earnings releases of companies from Walt Disney Co. to General Motors Co. The Standard & Poor's 500 Index climbed 0.6 percent to 1,761.65 at 9:40 a.m. in New York.
An assessment of American's views of current economic conditions decreased to minus 59.4 last week from minus 57.5 the prior period, today's confidence report showed.
Comfort Components
The gauge measuring views of consumers' personal finances declined to 1.2, its lowest in more than two months, from 2.5 the prior week. The buying-climate index fell to minus 41, its lowest reading in more than three months, from minus 40.5.
That is putting the gains in household purchases in jeopardy. Household purchases jumped 3.3 percent at an annualized rate last quarter, the biggest gain since the end of 2010, a Commerce Department report showed last week.
Companies such as Purchase, New York-based MasterCard Inc. were among those benefiting.
"Economic indicators, such as housing and employment, also showed some improvement during the quarter and consumer confidence bounced back from what was the low of October," Ajay Banga, the credit card company's president and chief executive officer, said on a Jan. 31 earnings call. "We saw an increase in our United States business in the fourth quarter."
That improvement is now at risk as wages stagnate. Incomes after taxes and adjusted for inflation dropped in December by the most since January 2013, a report from the Commerce Department showed last week.
Lower Income
That is probably contributing to gloomier attitudes among those at the low-end of the pay scale. Sentiment for households making less than $15,000 a year dropped to the lowest point since September 2012, today's report showed.
Equity prices, which last year showed the biggest annual increase since 1997, are now also in retreat, damaging confidence among the highest earners. The S&P 500 is down 5.2 percent this year through yesterday, and lost as much as 5.8 percent since reaching a record 1,848.38 on Jan. 15, the first decline of more than 5 percent since June 2013.
The comfort index for those earning $100,000 or more fell to 2.9 last week, the weakest since March, from a 13.1 reading.
Gains in other forms of wealth are probably helping to limit the damage. The S&P/Case-Shiller index of home prices in 20 U.S. cities rose in the 12 months through November by the most in almost eight years, a Jan. 28 report showed.
Broad-based Drop
Confidence declined in all four regions of the U.S. last week, according to today's report. Among the different age groups, comfort dropped for Americans 54 and younger and improved for those 55 and older.
Today's survey aligns with the Thomson Reuters/University of Michigan final index, which declined in January after reaching a five-month high the prior month. By contrast, the New York-based Conference Board's measure rose to a five-month high.
The Bloomberg Consumer Comfort Index conducts telephone surveys with a random sample of 1,000 consumers ages 18 and older. Each week, 250 respondents are asked for their views on the U.S. economy, personal finances and buying climate. The margin of error for the headline figure is 3 percentage points.
The percentage of negative responses is subtracted from the share of positive views and divided by three. The most recent reading is based on the average of responses over the previous four weeks.
The comfort index can range from 100, indicating every participant in the survey had a positive response to all three components, to minus 100, signaling all views were negative.
Before it's here, it's on the Bloomberg Terminal.
LEARN MORE