Cannabis Capitalists to B-School Grads: Join Us
Amy S. Choi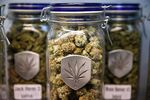 Cannabis entrepreneurs know it better than most: Making money demands risk. But investing at the edge of legality can have costs far greater than lost returns–like a long stint in federal prison.
Still, an optimistic breed of MBAs see opportunities in the nascent legal marijuana industry, and they think future B-school graduates should join their ranks despite the risk of arrest.
That risk is more than hypothetical. MBA and pot magnate Matthew Davies graduated from Santa Clara University's Leavey School of Business and later established a company that grows and sells medical marijuana in California, a state where such sales are legal.
Davies eventually expanded his business to $8 million in sales. But federal law still classifies marijuana as an illegal substance, and in 2011 the U.S. Drug Enforcement Administration raided his grow house. Davies pleaded guilty to conspiring to manufacture and distribute marijuana, manufacturing marijuana, and distributing marijuana. He is set to begin his sentence of five years in federal prison in March.
That cautionary tale hasn't deterred outfits like ArcView, an investment firm in the industry, which believes the upside is just too big to ignore. ArcView estimates that the market for legal marijuana will hit $2.34 billion this year.
Champions of the young industry are certain cannabis is the place for new entrepreneurs.
"This is a huge industry and a huge opportunity," says Brendan Kennedy, a 2005 Yale School of Management grad and co-founder of Privateer Holdings, a Seattle-based private equity firm focused on the cannabis industry. "And there's no investment banks, no public companies, no Wall Street firms in it."
MBAs and other brave entrepreneurs should jump at the chance to enter a new frontier, Kennedy says. "It's always fun to operate where other people aren't."
"We've had a lot of interest from freshly minted Ivy League MBAs who see the opportunity and are intrigued," he says. "Young people are less concerned about reputational risk because they see the inevitability of legalization, so they're not worried about working in a taboo industry."
But business schools—even in California, Colorado, and Washington, where cannabis is legal either for medical or recreational usage—aren't yet encouraging students to think that far outside the box. Santa Clara, Davies's alma mater, said it did not know of any professors that were studying the cannabis industry or teaching to it. Seattle University, the University of Washington, and the University of California at Berkeley all said the same.
Yale SOM, the alma mater of both Kennedy and his company's co-founder, Michael Blue, also said it doesn't have any faculty members researching the legal pot industry.
So if she can't get educated on cannabis in B-school and doesn't want to end up subjected to a classroom raid at Oaksterdam, what's a budding pot-preneur to do?
Kennedy recommends, in addition to avoiding arrest, working for an established company in the industry before sinking your own money into the business.
The 35-employee Privateer recruits at Yale and other campuses, though some colleges aren't friendly to the firm's presence. (Kennedy won't disclose which ones.)
But he's not offended. Once just another Silicon Valley VC on a more mundane career path, Kennedy says: "If anything, this career move has enhanced my reputation."
Before it's here, it's on the Bloomberg Terminal.
LEARN MORE