Broadcom's Fourth-Quarter Sales, Profit Top Analysts' Estimates
Ian King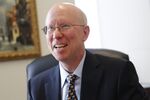 Broadcom Corp., a maker of communications chips used by Apple Inc. and Samsung Electronics Co., reported fourth-quarter revenue and profit that topped estimates, buoyed by sales of chips for phone networks.
Sales were $2.06 billion and profit, excluding certain costs, was 60 cents a share, Broadcom said yesterday in a statement. Analysts on average projected sales of $2.02 billion and profit of 58 cents, according to data compiled by Bloomberg.
Upgrades of mobile-phone systems to new higher data-speed standards, called long term evolution, or LTE, are driving demand for semiconductors needed to control the equipment. That's helping Broadcom make up for delays in offering new communications chips for handsets that connect the devices to cellular networks.
"If you're moving data, they win," said Doug Freedman, an analyst at RBC Capital Markets in San Francisco. He has the equivalent of a hold rating on the stock. "The more LTE adoption there is, the better for Broadcom."
Fourth-quarter net income fell 33 percent to $168 million, or 29 cents a share, from $251 million, or 43 cents, a year earlier, Broadcom said.
Revenue in the first quarter will be $1.9 billion to $2 billion, the Irvine, California-based company said. That compares with an average analyst estimate of $1.97 billion, according to data compiled by Bloomberg.
Broadcom shares, which fell 11 percent last year amid concern that it would be unable to meet targets for new baseband chips, rose to $29.60 in extended trading following the announcement. The stock had gained 1.8 percent to $29.21 at yesterday's close in New York.
In October, Broadcom said it purchased LTE-related assets from affiliates of Japan's Renesas Electronics Corp. for about $164 million, aimed at speeding up the company's ability to offer that type of mobile-phone chip. Qualcomm Inc. is the largest supplier of smartphone chips, including LTE components.
Before it's here, it's on the Bloomberg Terminal.
LEARN MORE