Black Tux Website Gets Rental Tuxedos Right
A website finally gets rental tuxes right
By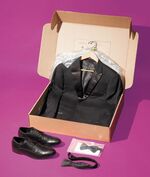 I got married in November and asked my groomsmen to wear black tie. I felt bad about telling them to spend hundreds buying a nice tuxedo they might never wear again; I felt worse about making them rent a billowy suit from a strip mall. Luckily, there was a third option: a year-old website called the Black Tux (theblacktux.com) that loans out slim-but-not-too-slim non-polyester suits. They arrive in the mail, and accessories are included.
Founded by Patrick Coyne and Andrew Blackmon, the Los Angeles company pares the process down until it's as minimal as black-tie dressing itself. The site offers only three styles, two kinds of shirt, and bow ties in enough colors to match the bridal party. By comparison, industry juggernaut Men's Wearhouse—whose tux division had sales of $406 million in 2013—carries 29 varieties of tuxedo and 10,404 possible color combinations. (Their "basic" package starts at $89.99, although MW is notorious for upselling.) The Black Tux rents suits for $95 to $120; a shirt is $15. And like Rent the Runway, the successful designer dress loaner site, the Black Tux doesn't charge for return postage or ask customers to dry-clean before sending back.
The process is easy: Submit measurements on a form a local tailor can help complete. Then the ensemble arrives a week before the event. If it doesn't look perfect, as my brother-in-law discovered, a new one is dispatched immediately. That's because the right fit is crucial to the brand's success, says Richard Jaffe, a retail analyst for brokerage firm Stifel Financial. "It's tougher than you think," he says, "yet that's mission-critical."
How did they look? My wife was pleased. So was my most persnickety groomsman. "These are slim and stylish enough to pass off as your own," he conceded. "And they're 10,000 times better than the rentals we all wore to junior prom."
Before it's here, it's on the Bloomberg Terminal.
LEARN MORE