Ask a Billionaire: James Dyson on Luxury Possessions
The vacuum cleaner company founder on luxury possessions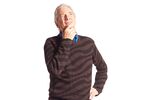 James Dyson
Founder and chief engineer, Dyson
Net worth: $4.4 billion
What have you bought that's made you feel incredibly rich?
I don't really have many possessions, but I'd always really wanted to drive an excavator. So I bought one. I love gardening, and with an excavator you can change the whole garden in a big way very, very quickly. And it's like an extension of your body; it's anthropomorphic. In one day, you can radically change everything you can see. And so that was such a luxury to be able to go out and buy one.
Before it's here, it's on the Bloomberg Terminal.
LEARN MORE