business
A Sports Accessory Startup Hopes to Seize the Sochi Moment
By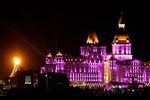 Federico Merle and Carlo Salmini arrived at MIT Sloan School of Management in 2009 and quickly recognized each other as the free spirits among the quants. "I wouldn't say we were fish out of water, because we are nerds in a way," says Merle, a 32-year-old native of Buenos Aires. "But at the same time, we'd look around and say, 'OK, what are we doing this weekend?' And people would say, 'Oh, I'm probably going to read this research paper.' Carlo and I would say, 'No way, let's go surfing.'"
Five years later, the pair is working together to sell action sports equipment and hoping for a big boost from the Sochi Olympics.
Merle had arrived at Sloan from Barclays Capital. Salmini, who hails from Venice, Italy, was a former competitive skier with a master's degree in engineering. In 2006, Salmini says he and Olympic gold medalist Ted Ligety were riding mountain bikes in Park City, Utah, when they hit on a simple observation. There was one group of companies that sold high-performance equipment to ski racers, and another group that targeted fashionable gear at the snowboarding crowd. Later that year, Salmini and Ligety launched Anomaly Action Sports in hopes of staking out a middle ground in what trade group SnowSports Industries America says is an $800 million accessories market.
Salmini's engineering chops and Ligety's slope cred helped Anomaly gain traction. "I had no clue about business," Salmini says. He enrolled at Sloan to get the know-how he thought he needed to expand the business, balancing his business school course load with the job of running the business. (It was exhausting, Salmini says. On the other hand, he still had time to go surfing.)
After graduation, Merle joined Anomaly and started implementing strategies born on the slopes. Skiers also snowboard, he says, and often practice other action sports in warmer months. The protective gear Anomaly makes for slopes was easily adaptable for mountain bikes, so the company launched a dirt bike brand.
Now the company, which has 15 employees split between Italy and Nashua, N.H., is banking on a big boost from the Olympics. "There's going to be 200 million people from all over the world looking at our athletes," says Merle. "It would cost a lot of money to buy that kind of advertising."
Before it's here, it's on the Bloomberg Terminal.
LEARN MORE