business
With Epic Backlogs at Boeing and Airbus, Can Business Be Too Good?
By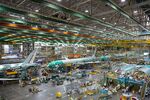 Boeing finished last year with a record order backlog, nearing 5,100 airplanes valued at nearly $400 billion. The company has been inundated with orders for new, more fuel-efficient versions of its top-selling 737 jet, the larger 787 Dreamliner, and the 777 long-haul workhorse. Boeing's European rival, Airbus, is sitting atop an even larger order book—5,559 airplanes at year's end—led by its enormously popular A320 family. The backlogs represent more than eight years of assembly work for both companies.
That kind of robust business, however, poses a question both companies have begun to consider: When is an order backlog too big?
"It is a good problem to have, but you have to be careful with this problem," says Richard Aboulafia, a vice president at Teal Group, an aerospace consulting firm. "You never know what's genuine industry health and exuberance and what's just locking in orders for next-generation airplanes," which often come with attractive discounts many years ahead of their actual availability.
If the wait for an airplane stretches out over too many years, a customer's business can change dramatically, leading to cancelations or shifts to a different model (not to mention the crankiness factor as the wait creeps along). "We cannot continue at this level [of orders], but what we are doing is continuing to increase production," John Leahy, the head of sales at Airbus, told reporters earlier this month.
The obvious solution—build more airplanes—is neither quick nor easy; it can be financially taxing and lead to overproduction if not managed carefully. Boeing has raised airplane production rates over the past year, posting a record last year for deliveries of its three most popular models, the 737, the 777, and the 787.
Last year Boeing delivered a record 648 airplanes and aims to top that with up to 725 deliveries in 2014. The company is working to boost its monthly production of 737s to 42 by this summer and plans to raise that rate further, to 47 per month, in 2017 to meet airline demand. Each month Boeing now builds 10 787 Dreamliners—the company's first airplane made mostly of composite materials—and plans to ramp up to a dozen in 2016 and 14 by 2020. It has increased 787 production three times in the past 14 months.
Airbus has increased its deliveries for a dozen consecutive years, including a record 626 airplanes in 2013, a year in which it hired 3,000 workers to help fill the orders. A Boeing spokesman said the company expects its backlog to remain steady this year, with deliveries roughly matching orders.
Both jet makers have seen torrid demand since the 2008 global financial crisis, with airlines working to right their finances and new carriers expanding around the world. In the U.S., the largest commercial aviation market, major airlines are refreshing their fleets with the new models. Chinese airlines are quickly expanding their service worldwide, while several new budget players have formed to meet new demand from travelers. Major airlines are also migrating toward larger airplanes with more seats, which offer more attractive operating economics—but also generally take longer to build.
But the order surge is almost certain to slow, and Boeing shares slipped 6 percent today on the company's forecast of a 2014 profit that fell short of analyst forecasts. Boeing said it will earn $7-$7.20 per share this year, below the $7.46 average of 23 analysts polled by Bloomberg. Boeing expects the global airplane fleet to double by 2033, with demand for more than 35,000 new airplanes.
Before it's here, it's on the Bloomberg Terminal.
LEARN MORE