business
Was There Enough for Small Business in Obama's State of the Union?
By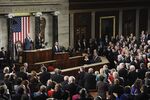 President Obama mentioned small business three times in his State of the Union Address last night, touting his administration's record of promoting small business lending and calling for better tools to help business owners sell in foreign markets. He also sent a shout out to John Soranno, a Minneapolis pizzeria owner who recently gave employees a raise to $10 an hour. To judge by the response of small business advocacy groups, that wasn't enough.
The conservative-leaning National Federation of Independent Business said the "president snubs small business" in a statement responding to last night's speech. Todd McCracken, president of the National Small Business Association, which describes itself as "staunchly nonpartisan," said that Obama "ignored the giant elephant in the room—our looming long-term fiscal crisis" that makes it hard for his organization's members to plan to expand their businesses.
Beth Solomon, chief executive of the National Association of Development Companies, a trade group for lenders whose members have benefited from record Small Business Administration lending under Obama, was disappointed that the president didn't spend more time talking about small business job creation. "America's small businesses did not feature significantly in the SOTU speech," she said in a statement.
There were more specific complaints:
The president's pledge to increase the minimum wage for federal contractors to $10.10 will make small contractors less competitive in bidding for government jobs, according to the NSBA. National Association for the Self-Employed Vice President Katie Vlietstra took the occasion to call for the elimination of Obamacare penalties for the uninsured.
That's not to say there wasn't support for the speech from small business advocates. Chicago-area caterer David Borris from the left-leaning Main Street Alliance said raising the minimum wage would put more money in the hands of his customers. David Levine, chief executive of the American Sustainable Business Council, applauded the president's call to close corporate tax loopholes.
If the reactions feel familiar, it's probably because they are. Obama's speech was packed with old proposals, in large part because he's been unable to get much legislation through a split Congress. The flip side to that reading: Washington's paralysis means it doesn't matter how much or how little Obama talked up small business last night. Despite lavishing attention on small business in past State of the Unions, few of the president's proposals to prop up Main Street have taken full effect.
Before it's here, it's on the Bloomberg Terminal.
LEARN MORE